Kalanexpo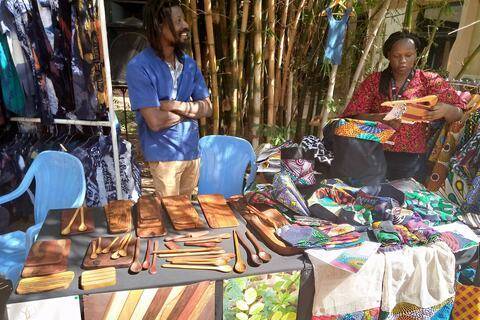 Associed fund
:
Afrique Créative
Entrepreneur
:
Soumaïla & Marie Kanla
Located between Ouagadougou and Fada n'Gourma since 2016, Kalanexpo aims to preserve and enhance the value of Burkina Faso's forest resources by fighting against the logging of green trees. To do this, the team travels through the bush in search of naturally dried wood to recover and sublimate it into unique creations.
THE ENTREPRENEURS
Soumaïla Kanla (co-founder): passionate about trees and art in all its forms, Soumaila is a designer trained as a cabinetmaker in France before returning to the region of Fada N'Gourma, where he was born, to create Kalanexpo. He is in charge of design and production.
Marie Kanla (co-founder): committed alongside her husband in the fight against deforestation, Marie is responsible for marketing and sales at Kalanexpo. Based in Ouagadougou, she manages the company's relations with its national and international clients.
PARTNERSHIP WITH AFRIQUE CREATIVE
The support and grant offered under the programme are intended to :
Improve the production line in order to increase its performance
Reinforce the team: recruitment, employee training and securing long-term contracts
Accelerate the increase in sales by creating an online store and an exhibition gallery
Maximize its social and environmental impact, in particular through obtaining a label
MAIN IMPACTS
Preservation of green trees
Employee training
Raising awareness of wood and forest preservation
ABOUT AFRIQUE CREATIVE
The Afrique Créative programme is financed by the Agence Française de Développement and implemented by a consortium of which I&P Conseil is a member. The programme aims to promote the structuring of the cultural and creative ecosystem by supporting the development, the reinforcement of skills and the networking of companies in this sector. Afrique Créative is intended for operators who combine creativity and entrepreneurial spirit in order to maximize their potential in terms of job creation and economic growth.
→ Learn more about Afrique Créative