Elodie Nocquet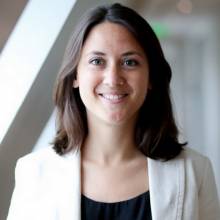 Élodie Nocquet is head of ESG (environmental, social and governance) issues and impact measurement at I&P.
She joined I&P in 2009, where she previously held the position of investment officer. She designed and implemented I&P ESG & Impact management system in 2012, and works since with the team and the portfolio companies to improve their practice. She participated in several initiatives on impact measurement, including case studies for the G8 impact investment task force or the European Venture Philanthropy Association (EVPA). She reports annually the ESG performance of the portfolio, following the Principles for Responsible Investment. She was trained to the CDC (UK) Toolkit on ESG for fund managers.
Prior to joining I&P, she was a fundraising consultant for development projects in Africa based in Tunisia.
She is graduated in management from HEC business school and in development economics from Sorbonne University.
Her interests besides Africa and impact investing: good books and good movies!
Publications & Collaborations
• Boosting CSR in African SMEs: the experience of an impact investor, Private Sector & Development, September 2016
• Impact Measurement in practice, EVPA, January 2016