I&P's October newsletter is online!
Submitted by

Admin

on Wed, 10/31/2018 - 16:43
English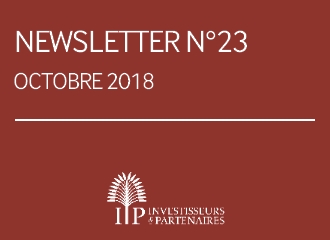 I&P's 23th Newsletter focuses on the closing of I&P Développement 2, with an editorial signed by Stefan Nalletamby of the African Development Bank (one of the main investors of the roundtable).
The newsletter also includes the latest news and arrivals in the team, news from the companies in the portfolio and the latest I&P investments
Click here to discover the newsletter!
Editorial of Stefan Nalletamby, Director for the Financial Sector Development Department at the African Development Bank

"The African Development Bank is pleased to support the promising adventure of IPDEV 2. This is the first impact investment project of this kind supported by our institution and it is fully in line with our mandate: to support the development of a dynamic private sector, by improving access to financial services, developing efficient financial markets and deepening regional integration.
Supporting High-Potential Small and Medium-Sized Enterprises in Africa is one of our priorities, and they represent the core target of the IPDEV 2 program. More than 500 SMEs will be financed thanks to the program, with the creation of 15,000 jobs as a result.

African investment teams, sponsored and supported by IPDEV 2, will be at work to identify, finance and support these young companies. Thanks to this innovative and pioneering mechanism, IPDEV 2 makes it possible to strengthen African investment capacities in the private equity sector and paves the way to extend the reach of impact investing in Sub-Saharan Africa. Even more importantly, IPDEV 2 makes it possible to raise funds from financial institutions and local private sector operators, which is a significant demonstration effect. We are convinced that this initiative will encourage new actors to engage in the path of SME financing, so critical to the development of the continent!"
In this Newsletter:
• Focus on the closing of IPDEV 2
• Interview of Anne Merienne and Julien Giuge, AFRIBON
• First investments of the fund IPAE 2
• Publication of the 5th and last Chapter of "Fifteen Years, Fifteen Lessons from Africa"