Davy Soubeiga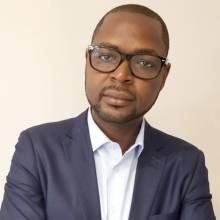 Davy Soubeiga works as Investment Manager at Sinergi Burkina since 2018.
Prior to joining Sinergi, he worked more than ten years in the private sector and in the financial sector in North America. He notably worked as Senior Analyst at the National Bank of Canada.
Davy holds a MBA from McDonough School of Business of Georgetown University (Washington DC).

The African proverb than inspires him
"Education forms, experience forges"
About Sinergi Burkina

Sinergi Burkina is the first investment company dedicated to small and medium-sized enterprises in Burkina Faso. Managed by Job Zongo, it was created in 2014 on the initiative of Investisseurs & Partenaires and Burkinabe entrepreneurs determined to encourage entrepreneurship in the country.
Sinergi Burkina is the second African fund sponsored by Investisseurs & Partenaires as part of its program I&P Development 2. The network currently includes impact funds specialized in SME-financing in Niger (Sinergi Niger), in Senegal (Teranga Capital), in Madagascar (Miarakap) and Côte d'Ivoire (Comoé Capital).