Granh Daniel Djama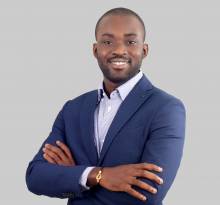 Granh Daniel has joined Comoé Capital in 2019 as Investment Officer.
Before joining I&P, Granh Daniel has worked as a strategy consultant. He then entered the world of the manufacturing materials industry and then the foods industry as a Senior Management Controller. After several years of experience in different positions related to monitoring and improving the performance of SMEs, and in large companies such as ROCHE, BIOPHARMA, LAFARGEHOLCIM, he joins I&P.
Granh Daniel also holds an MBA from ESG Paris.
About Comoé Capital

Comoé Capital is the first impact fund dedicated to the financing and support of Ivoirian SMEs and start-ups.
Managed by Issa Sidibé, Comoé Capital is the fifth African fund sponsored by Investisseurs & Partenaires as part of its fund I&P Development 2. The network currently includes impact funds specialized in SME-financing in Niger (Sinergi Niger), Burkina Faso (Sinergi Burkina), in Senegal (Teranga Capital) and Madagascar (Miarakap).