Mamadou Gueye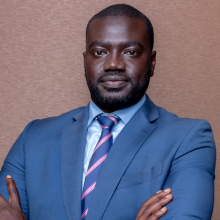 Mamadou joined the team of Teranga Capital in July 2017 as Investment Manager.
Mamadou was previously ABREC CEO's financial advisor on renewable energy program in West Africa. He also served as Senior Financial Analyst at CGF BOURSE for the WAEMU area and as a Financial auditor in Morocco.
He holds a MBA in Finance from Wales Cardiff University.
About Teranga Capital

Teranga Capital is the first impact investment fund dedicated to financing and supporting Senegalese SMEs and start-ups.
Led by Olivier Furdelle, Teranga Capital is the third African fund sponsored by Investisseurs & Partenaires as part of the program I&P Development 2. The network currently includes a fund in Niger (Sinergi Niger), Burkina Faso (Sinergi Burkina), Côte d'Ivoire (Comoé Capital) and Madagascar (Miarakap).