Ndèye Diago Dièye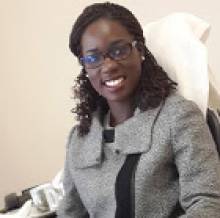 Ndèye Diago DIEYE is based in Dakar and holds the position of Operations Director at Teranga Capital.
Diago has several years of experience in investment banking and consulting in corporate finance, private equity and venture capital, and corporate and business development between Dakar, London and New York. Before joining Teranga Capital in 2019, she worked for 5 years with the Senegalese investment fund Fonsis. Diago holds a master's degree in finance and accounting from the Centre Africain d'Etudes Supérieures en Gestion (CAESG) and a diploma in accounting, labour law and taxation from CEPECS in Dakar, Senegal.
About Teranga Capital

Teranga Capital is the first impact investment fund dedicated to financing and supporting Senegalese SMEs and start-ups.
Led by Olivier Furdelle, Teranga Capital is the third African fund sponsored by Investisseurs & Partenaires as part of the program I&P Development 2. The network currently includes a fund in Niger (Sinergi Niger), Burkina Faso (Sinergi Burkina), Côte d'Ivoire (Comoé Capital) and Madagascar (Miarakap). Access Teranga Capital's website →