Karoninka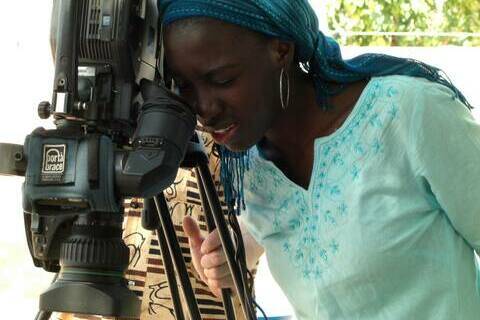 Status
:
Capital investment
Associed fund
:
Afrique Créative
Entrepreneur
:
Angèle Diabang
Karoninka is a film production and directing company which, during its fourteen years of existence, has established itself with a large number of documentary and fiction films, institutional films, video clips, etc. From Congo, a doctor to save women (first film about Doctor Denis Mukwege, Nobel Peace Prize 2018) to Waliden, child of others, not forgetting Senegalese women and Islam, Karoninka's filmography is very committed. This experience, which extends beyond the borders of Senegal, both in Africa and Europe, has enabled the company to acquire a network allowing it to meet the demands of the profession.
THE ENTREPRENEUR
Angèle Diabang trained at the Forum Média Centre in Dakar (2003), at FEMIS in Paris and at the Filmakademie in Germany. In 2005, she directed her first film, Mon beau sourire, which was acclaimed by international critics; followed by four other documentaries, including Congo, un médecin pour sauver les femmes, the first film about Doctor Denis Mukwege, winner of the 2018 Nobel Peace Prize. Angèle then moves on to fiction with her short films Ma coépouse bien-aimée (Clermont-Ferrand 2019 selection, Best Screenplay Award at the Émergence festival in Togo) and Un air de kora (Bronze Foal at FESPACO 2019 and Best Short Film at WADA 2019, Nigeria; Best Short Film in Kigali, Bujumbura, Cotonou, Dakar). She also won the ECOWAS Best Director Award at FESPACO 2019. From 2014 to 2016, Angèle was President of the Board of Directors of SODAV, Senegal's copyright collective management society.
PARTNERSHIP WITH AFRIQUE CREATIVE
The support and grant offered under the programme are intended to :
Structure the economic model and diversify sources of income
Develop and strengthen production potential in order to broaden the scope of the company's activities
Stabilise and strengthen the team, which is mainly composed of women.
Develop projects for television fiction and documentary series
To set up the Mousso Institute to train young girls in Casamance in the film industry.
MAIN IMPACTS
Film production
Training of young people in documentary writing and film production
Recruitment and training of women
ABOUT AFRIQUE CREATIVE
The Afrique Créative programme is financed by the Agence Française de Développement and implemented by a consortium of which I&P Conseil is a member. The programme aims to promote the structuring of the cultural and creative ecosystem by supporting the development, the reinforcement of skills and the networking of companies in this sector. Afrique Créative is intended for operators who combine creativity and entrepreneurial spirit in order to maximize their potential in terms of job creation and economic growth.