Optimiste Produktions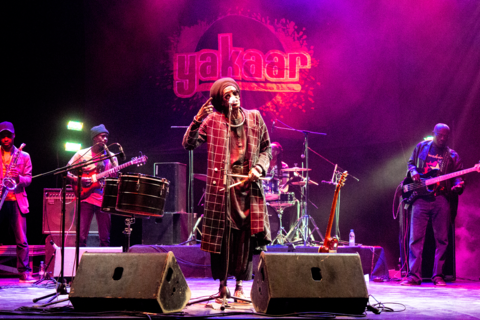 Status
:
Capital investment
Associed fund
:
Afrique Créative
Entrepreneur
:
Fatoumata & Safouane Pindra
For 20 years, Optimiste Produktions has been producing phonographic and audiovisual productions and organising events to promote urban cultures in Senegal, including the international urban music festival YAKAAR (formerly the Hip-Hop Awards) and three editions of the Yakaar Young Talents Rufisque springboard competition. Optimiste initiated the YAKAAR (Hope in Wolof) centre, a creative space with a recording and rehearsal studio, clothing and screen printing workshops, a documentation area and a multipurpose room. These activities are complemented by training to strengthen the capacities of young artists and technicians. Optimiste has contributed to setting up Perceptive, the first performance hall with a capacity of more than 1000 seats in the Rufisque department.
THE ENTREPRENEURS
Fatoumata PINDRA (founding member): Holder of a Master 2 in Audit / Management Control, Fatoumata has extensive professional experience in the field of organisation management and partner relations. She has been involved for several years in various development programmes, as well as the production of events and cultural products on the Senegalese scene.
Safouane PINDRA (founding member): A graduate in production management from Inirep (France), he has completed his curriculum with several training courses in the management of shows, artists and venues. With more than 25 years of experience in the musical field, Safouane has managed major events in Senegal and West Africa. He has also been the manager of some twenty African artists and groups.
PARTNERSHIP WITH AFRIQUE CREATIVE
The support and grant offered under the programme are intended to :
Structure the economic model and diversify sources of income
Develop a strategy and communication supports to boost sales
Create sustainable jobs and work on team organisation
Improve management tools
MAIN IMPACTS
Organisation of an international urban music festival
Organisation of springboard competitions for young talent
Production of musical and audiovisual works
Training of young Senegalese in music and performing arts professions
ABOUT AFRIQUE CREATIVE
The Afrique Créative programme is financed by the Agence Française de Développement and implemented by a consortium of which I&P Conseil is a member. The programme aims to promote the structuring of the cultural and creative ecosystem by supporting the development, the reinforcement of skills and the networking of companies in this sector. Afrique Créative is intended for operators who combine creativity and entrepreneurial spirit in order to maximize their potential in terms of job creation and economic growth.