Dyane Tchagag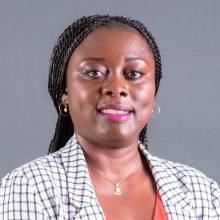 Dyane Tchagag joined Comoé Capital in November 2017 as Office Manager.
Previously, Dyane worked as a production manager for Le Nouveau Courrier in Abidjan. She worked as management assistant at SICNAT, an agricultural company marketing rubber trees.
Dyane holds a BTS in Computer Science Management.

The African proverb that inspires her
"If you want to walk fast, walk alone; if you want to walk far, walk with others."
About Comoé Capital

Comoé Capital is the first impact fund dedicated to the financing and support of Ivoirian SMEs and start-ups.
Managed by Issa Sidibé, Comoé Capital is the fifth African fund sponsored by Investisseurs & Partenaires as part of its fund I&P Development 2. The network currently includes impact funds specialized in SME-financing in Niger (Sinergi Niger), Burkina Faso (Sinergi Burkina), in Senegal (Teranga Capital) and Madagascar (Miarakap).