Karène Angelo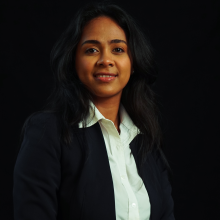 Karène joined the I&P team in 2021 as an Investment Officer based in Antananarivo - Madagascar.

Karène was formerly the Administrative and Financial Director of the JCR Group before joining the I&P team.
She holds a Master's degree in Management Control and Operational Audit from INSCAE and a Master's degree in Accounting, Control and Audit from IAE Poitiers.


Inspirational quote
« Make today count, you'll never get it back.»