Mélissa Ngoma-Mby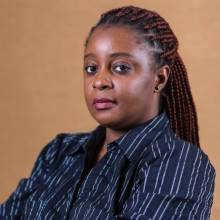 Mélissa Ngoma-Mby works as Analyst at Teranga Capital since January 2020.
She examines financing requests, studies business plans, performs financial analyses and evaluates the value of the company and the data of the market and its growth potential in order to make a diagnosis on the evolution of a company.
Prior to joining Teranga, Mélissa held the positions of Corporate Affairs Officer at the Senegalese subsidiary of First Bank of Nigeria and of Project Analyst at Néoshift.
She is a graduate of the African Institute of Management in Banking and Financial Engineering.
She is particularly interested in the development of the economic fabric in Sub-Saharan Africa through the private sector and public-private partnerships.
About Teranga Capital

Teranga Capital is the first impact investment fund dedicated to financing and supporting Senegalese SMEs and start-ups.
Led by Olivier Furdelle, Teranga Capital is the third African fund sponsored by Investisseurs & Partenaires as part of the program I&P Development 2. The network currently includes a fund in Niger (Sinergi Niger), Burkina Faso (Sinergi Burkina), Côte d'Ivoire (Comoé Capital) and Madagascar (Miarakap).
→ Access Teranga Capital website