Ndèye Diago Dièye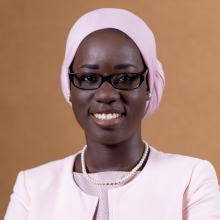 Ndèye Diago DIEYE is based in Dakar and holds the position of Program Director at Teranga Capital.
Ndèye Diago Dièye is a seasoned financial services industry professional, with nearly 15 years of experience spent between the US, the UK and Senegal.
She is a specialist in Corporate Finance, particularly for small and medium-sized enterprises in emerging countries. Through her multiple experiences in investment banks, commercial banks, consulting firms, and investment funds, she has acquired skills in mergers and acquisitions, private equity, corporate and business development, corporate strategy, and Transaction Services (due diligence), among others.
She is currently a Program Director at Teranga Capital where she deploys and oversees financing programs for small and medium-sized enterprises (SMEs) with a focus on Senegal. These funding programs cover a wide range of mechanisms ranging from zero-interest soft loans to venture capital, with complementary instruments such as capacity-building programs via technical assistance. With skills in impact investing and ESG, business law, taxation, and accounting, she sits on various SME boards as a non-executive director.
A native of Senegal where she grew up, Diago is fluent in Wolof, French and English, and has basic competencies in Spanish and Japanese. She has a Bachelor of Arts degree with a double-major in Economics and Japanese, and a minor and Statistics from Macalester College in the US and Waseda University in Japan. She successfully obtained a Diplôme Supérieur Comptable at the Ecole Polytechnique Supérieure de Dakar, and completed a postgrad specialization in accounting, corporate finance, taxation, and business law at CESAG Business School in Dakar.
About Teranga Capital

Teranga Capital is the first impact investment fund dedicated to financing and supporting Senegalese SMEs and start-ups.
Led by Olivier Furdelle, Teranga Capital is the third African fund sponsored by Investisseurs & Partenaires as part of the program I&P Development 2. The network currently includes a fund in Niger (Sinergi Niger), Burkina Faso (Sinergi Burkina), Côte d'Ivoire (Comoé Capital) and Madagascar (Miarakap). Access Teranga Capital's website →