Procréa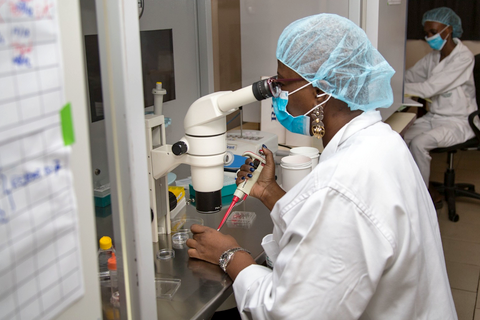 Entrepreneur
:
Myriam Kadio-Morokro BROU
The Clinic PROCREA, based in Abidjan, started its activities in 2008. The clinic is specialized in the area of reproductive health and is the leader in Côte d'Ivoire for Medically Assisted Procreation (MAP), a technique that allows people who have difficulty having a child to successfully give birth.
PROCRÉA's offer also covers mother-child health, including obstetrical gynecology, neonatology (newborn health), and pediatrics.
The vision of PROCREA's promoters is to popularize the practice of MAP in order to make it accessible to a greater number of people. The clinic aims to become one of the leaders in the sector in Côte d'Ivoire and West Africa, complying with the requirements and standards of the international medical sector. In ten years of activity, the clinic has already accompanied more than 500 couples.
THE ENTREPRENEUR
PROCRÉA was created in 2006 under the initiative of Dr. Myriam Kadio-Morokro Brou, principal promoter, and Professor Marie-Laure Hauhouot Attoumgbré, co-promoter, both of whom are recognized experts in Côte d'Ivoire in the fields of biology and reproductive sciences. Later they were joined by 3 other renowned health professionals in Côte d'Ivoire.
After obtaining her bachelor's degree in France, Dr. Kadio-Morokro Brou joined the Faculty of Medicine in Abidjan where she graduated in 2001 and did a thesis on reproductive biology. Passionate about the subject, she then returned to France to complete her studies in reproductive biology, sterility therapy, molecular cytogenetics and male sterility. During her stay in France she worked in several hospitals, hospitals and laboratories.
Back in Côte d'Ivoire in 2005, she suggested to her friend Prof Attoumgbré to join her in the PROCREA clinic project, which they founded in 2006. PROCREA's activities officially started in 2008.
► To know more, discover the interview of Dr. Kadio-Morokro Brou
PARTNERSHIP WITH I&P
I&P committed alongside with PROCRÉA to:
• Restructure the project to focus on the medical offer dedicated to reproduction
• Financing and supporting the construction of a new, larger clinic, better adapted to PROCRÉA's needs and designed in an environmentally friendly way (treatment of medical waste, rainwater recovery, reduction in energy consumption, etc.)
• Support the management team in the running of the clinic
EXPECTED IMPACTS
• Make reproductive health care available to the greatest number of people
• Improve the quality of care
• Increase the clinic's capacity