Knowledge center
News
See all news

Access I&P's press center
Quaterly Newsletters
Our quarterly newsletter reviews the latest news from I&P (portfolio, team, etc.) and offers original content (interviews with entrepreneurs, editorials, analysis, etc.).

Edito of J.M. Severino, CEO of I&P | Focus: Partnership with the Government of Monaco to launch the first impact fund dedicated to education in Africa | Portrait Myriam Kadio-Morokro Brou, founder and director of the clinic PROCREA
N° 12 - Janvier 2016
Edito de J-M Severino et voeux de l'équipe | Portrait de Gatien Adjagboni, directeur de Tincy Boulangerie (Bénin)
N° 13 - Avril 2016
Edito de Mamadou Lamine Loum | Focus sur l'inauguration des premiers fonds sponsorisés par IPDEV 2: Sinergi Burkina et Teranga Capital | Portrait de Catherine Krobo-Edusei, Eden Tree (Ghana)
N° 14 - Juillet 2016
Edito de Manu Dibango | Focus sur les trois nouveaux investissements panafricains d'I&P | Portrait de Jules Kébé et Sokhna Diagné de Duopharm (Sénégal)
N° 15 - Octobre 2016
Edito de Rob Schneider, USAID | Focus sur l'étude d'I&P "Investir dans le développement en Afrique | Portrait de Jaco Chan Kit Waye, Directeur d'IOT (Madagascar)
N° 8 - Janvier 2015
Edito de Jean-Michel Severino, Président d'I&P | Portrait de Khadidiatou Nakoulima, fondatrice et directrice de NEST (Sénégal)
N° 9 - Avril 2015
Edito d'Antoine Delaporte, Directeur d'Adenia Partners | Focus sur le 3e anniversaire du fonds IPAE | Portrait de Folly Koussawo et Seydou Béyé, Trianon (Gabon)
N° 10 - Juillet 2015
Edito d'Olivier Furdelle et Omar Cissé, fondateurs de Teranga Capital | Focus sur la publication du guide "Investir dans les Petites et Moyennes Entreprises en Afrique | Portrait de Marcel Ouédraogo, Siatol (Burkina)
N° 11 - Octobre 2015
Edito de Paul Derreumaux, fondateur du groupe Bank of Africa | Focus sur le lancement du Club Africain des Entrepreneurs | Portrait de Bakary Coulibaly, ENVAL Laboratoire (Côte d'Ivoire)
N° 4 - Janvier 2014
Edito de J-M Severino | Focus sur l'étude d'impact à 360° de l'institution de microfinance ACEP Cameroun | Portrait d'Anne Nakawunde, directrice d'Uganda Finance Trust
N° 5 - Avril 2014
Edito de Joan Bardeletti sur le projet "Les Grands Moyens" | Focus sur le partenariat avec la plateforme de crowdfunding Kiva | Portrait de Sidi Khalifou, Directeur de CDS (Mauritanie)
N° 6 - Juillet 2014
Edito de Ann-Katrin Dolium | Focus sur la politique ESG & Impact d'I&P | Portrait d'Elizabeth Kacou, PCA de Pharmivoire Nouvelle, et Laure Djoukam, Directrice de CDM
N° 7 - Octobre 2014
Edito de Nicholas Colloff (Argidius) et Randall Kempner (ANDE) | Focus: IPDEV 2 reçoit 1 million d'euros de subvention grâce à l'ANDE-Argidius Finance Challenge | Portrait de Djibo Ibrahima, Directeur de Sinergi Burkina
N° 1 - Mars 2013
Edito de Jean-Michel Severino | Portrait de JP Imélé, Biotropical (Cameroun)
N°2 - Juin 2013
Edito de JM Severino | Focus sur le premier anniversaire du fonds IPAE
N° 3 - Octobre 2013
Edito d'Eric Orsenna | Lancement du projet I&P développement 2 (IPDEV 2) | Portrait de Bagoré Bathily, fondateur de La Laiterie du Berger au Sénégal.
Advocacy Projects
Study: Impact Investment and the Sustainable Development Goals
Investisseurs & Partenaires (I&P) and the Foundation for International Development Study and Research (FERDI) publish a study on impact investment in Africa, entitled "Investing in Africa's development: how impact can contribute to meeting the Sustainable Development Goals (SDGs) in Africa". According to the study, impact investment offers a wide range of growth opportunities and represents an innovative and efficient answer to the development challenges of the continent.

Download the Study

Read the Executive Summary
"As part of this agenda, the UN put out a strong call to action for the private sector to play a fundamental role in achieving these goals. Indeed, the SDGs cannot be achieved without the active involvement of responsible businesses. The private sector will be essential in creating sustainable, productive and decent employment, economic prosperity, resilient infrastructure that underpins sustainable development and innovations that create green growth and opportunities for all, especially the poor. Impact investors can be at the forefront of addressing this challenge"
The study presents:
► The main characteristics of impact investors, and how they can contribute to solve development challenges
► The landscape of impact investment in Africa: 19% of total assets under management in 2015 has been disbursed in Sub-Saharan Africa (the second largest amount worldwide, behind North America), but a very limited number of countries and sectors benefitted from it
► How Impact Investment can contribute to meeting the SDGs in Africa, grouped into 8 main "SDG investment areas" where the private sector can play a key role: 1) Fighting poverty and inequalities, 2) Agriculture, Nutrition and Food Security, 3) Healthcare, Water and Sanitation, 4) Education, 5) Energy Access, 6) Infrastructure and Innovation, 7) Sustainable cities and 8) Environment and Biodiversity
Read more on our ongoing projects
Handbook: Investing in Africa's SGBs
Investisseurs & Partenaires published the handbook "Investing in Africa's Small and Growing Businesses", a new tool to foster the development of early-stage SME investment in Africa and encourage the rise of new investors on the continent.
Designed in partnership with Ernst & Young, the Aspen Network of Development Entrepreneurs and INSEAD Business Schools, and funded by The Rockefeller Foundation and The Tony Elumelu Foundation, the handbook is intended for investors, entrepreneurs and anyone interested in the field of SME financing in Africa.
As stated by Jean-Michel Severino, "the primary objective of this handbook is to provide an operative document for the future investment companies of the continent"
The Handbook is available in free access on: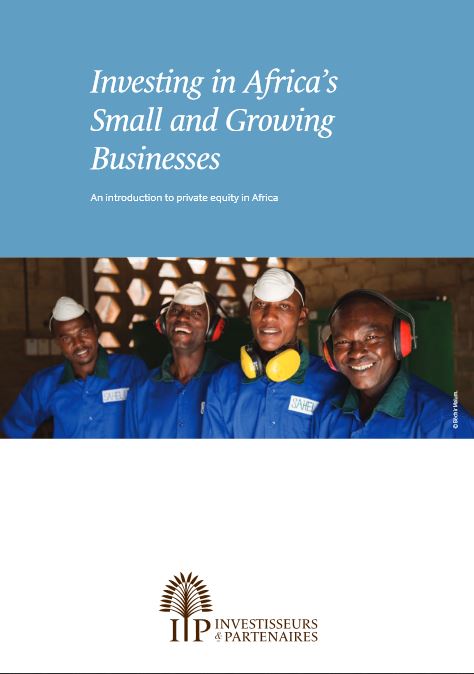 Small is Powerful
Initiated by the photographer Joan Bardeletti and Investisseurs & Partenaires, "Small is Powerful" aims to show a new facet of the African continent and to demonstrate the key role played by the small and medium-size enterprises for the development of the continent.
The project follows five SMEs, operating across the continent in various sectors: Agrisatch, a local producer of good-quality eggs in Benin, Centrale du Solaire (CDS) in Mauritania, which provides access to water and electricity in rural area, the Senegalese clinic NEST, dedicated to the care of woman and child, Indian Ocean Trepang (IOT), specialized in the breeding of sea cucumbers in Madagascar and Wecyclers in Nigeria, which provides an innovative recycling service in Lagos.
As an analytical and visual project, Small is Powerful gathers impact studies and on-site reportages. The project focuses on the entrepreneurs and office life, but also assesses the impacts these enterprises have on their environment and their stakeholders (job creation, infrastructure, improvement of living conditions…)
Before each reportage, there is extensive preparatory work with the SMEs, filling in an impact assessment matrix specifically drawn up by the project team and based on EU recommendations in the domain. The study questions the impacts of the company on its ecosystem (employees, clients, suppliers, local communities…). The contents of the matrix constitute a check-list which then guides the visual production (photo and video) during a 10-day reportage on-site.
English