Hugues Vincent-Genod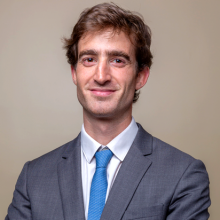 Hugues Vincent-Genod joined I&P in 2011. He started working on the West African portfolio and the launch of a new office based in Accra. Since 2013, he has been working on IPDEV2, the first sponsor of African impact funds. He is particularly working with Sinergi Burkina, Comoé Capital and on the launch of new impact funds.
Prior to joining I&P Hugues has realized several missions for organisations that support entrepreneurship in France and in Central Africa.
Hugues graduated from London School of Economics and Sciences Po Paris with a Double Degree in Finance and International Affairs.
Publications
• USAID and Partners: Accelerating African Entrepreneurship through Local Impact Investing, Global Entrepreneurship Network, November 2016
• Investing in Africa's Small and Growing Businesses, May 2015
• Performing due diligence on startups in Africa: analyzing investment opportunities, VC4A, May 2015
• Attracting African Capital to Invest in African Small and Growing Businesses: A Utopia?, Business Fights Poverty, May 2015
• Unlocking Equity For Early-stage Entrepreneurs in Africa, Business Fights Poverty, November 2014