Timothée OUOBA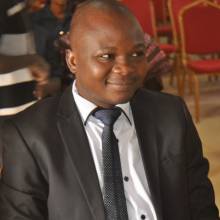 Timothée OUOBA is the I&P Initiation Manager of the Sahel I&P Acceleration in Burkina Faso Program implemented by Sinergi Burkina. Holder of a Master's degree in Business Administration and Management from the University Joseph KI ZERBO in Burkina Faso, he has more than 15 years of professional experience in business capacity building, SME advisory and management of projects and programmes supporting the development of SMEs in Burkina Faso.
Before joining the SINERGI team in June 2020, Timothée OUOBA worked for 9 years at the Business House of Burkina Faso (MEBF) where he held the positions of Business Management Consultant, Head of the Project Support Department, Head of the Business Innovation and Advisory Support Department and Head of the Project Design and Formulation Department respectively. He has managed several SME support projects financed by financial partners such as the French Development Agency and the World Bank. Prior to MEBF, he worked in other structures, notably in consulting firms.
About Sinergi Burkina

Sinergi Burkina is the first investment company dedicated to Small and Medium Enterprises in Burkina Faso. Headed by Job Zongo, it was created in 2014 at the initiative of Investors & Partners and Burkinabe entrepreneurs determined to encourage entrepreneurship in the country.Sinergi Burkina finances SMEs for amounts ranging from FCFA 20 million to FCFA 200 million, by taking minority stakes in the capital and offering shareholder loans. It accompanies SMEs throughout their growth in its areas of expertise: governance and strategy, financial and accounting management, organisation, technical support, etc.
Sinergi Burkina is the second African fund sponsored by Investisseurs & Partenaires as part of the I&P Développement 2 program. The fund network currently includes a fund in Niger (Sinergi Niger), Senegal (Teranga Capital), Madagascar (Mirakap) and Ivory Coast (Comoé Capital).