HaiRun Technology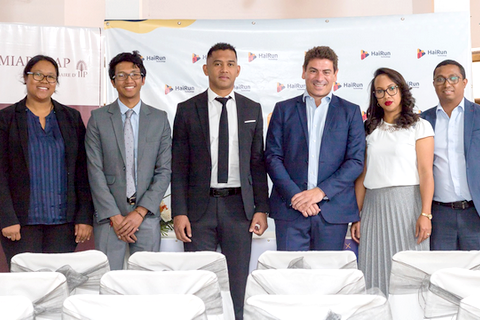 Status
:
Capital investment
Entrepreneur
:
Ranto ANDRIAMBOLOLONA
Created in 2017, HaiRun Technology, is a DSC (Digital Services Company) based in Madagascar, specialized in the conception and development of specific high-level projects, and currently operating on the international market.
The digital company today has a solid foundation with more than 60 employees (Management, Technical, Sales and Marketing) and more than 20 projects carried out for large companies such as Share.Place, Ewattch, Laza-Adina, Super U. In addition, HaiRun has set up an artificial intelligence platform « SmartPredict » which will be accessible to the general public in 2020. Moreover, HaiRun was a winner of the « AI for Good 2018 » Artificial Intelligence Competition organized by France AI and the French Red Cross.
THE ENTREPRENEUR
Ranto ANDRIAMBOLOLONA studied in Madagascar. First at the EPP (Public Primary School) of Antsiranana, then at the Zafy Albert High School of Diégo-Suarez before obtaining his BACC in 1997 and starting his engineering cycle in 1998 at the ISPM (Institut Supérieur Polytechnique de Madagascar). After immigrating to France, where he finished his studies, he worked in IT for 15 years (Priceminister, Boursorama, etc.), notably in the ideation and design of innovative products for French software publishers. In 2017, he created HaiRun Technology with only 5 employees at the start.
Interview with Ranto ANDRIAMBOLOLONA and Chantal RAZAFIMAHATRATRA
PARTNERSHIP WITH MIARAKAP
Miarakap's investment in HaiRun Technology aims to:
• Provide strategic and operational support
• Support HaiRun in its hyper-growth at the international level
• Finalize and market the SmartPredict platform
EXPECTED IMPACTS
• Creation of well-paying jobs for qualified Malagasy IT developers, whose retention in the country is an issue
• Increasing the competence of the development teams
• Madagascar's visibility on the global IT development scene
• Strengthening the supply of quality digital services in Madagascar (an opening to the local market is planned)
• Full formalization of the company, both at the tax level and in terms of company management (organization of steering communities, board of directors, implementation of reporting to manage the company
• Integration of ecological considerations (CO2 cost control) into product design