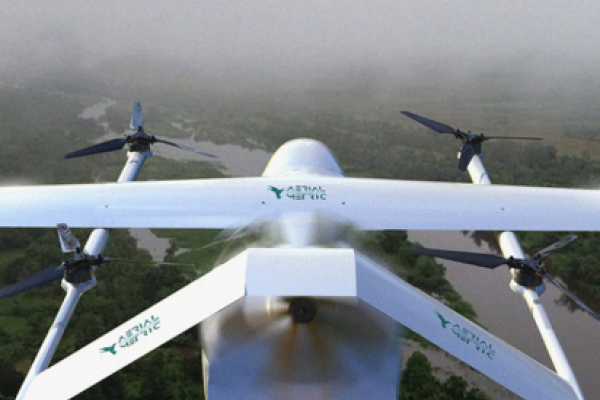 Sector of activity
:
Logistics
Status
:
Investissement en capital
Entrepreneur
:
Pierre-Loup Lesage, Stéphane Bihr, Agnès Hiere
A propos
:
Established in Madagascar since 2013, AerialMetric is a company operating aircraft and drones for the delivery of medical goods in landlocked areas of Madagascar, for organic larvicide spraying and for topography.
It also has a cargo aircraft production and maintenance operation, based in Antananarivo, and an R&D center in Maroantsetra in northern Madagascar. Today, its customers are mainly international NGOs. Eventually, AerialMetric plans to become the benchmark operator of Unmanned Aerial Vehicles (UAVs) in French-speaking Africa.
"In this country of almost 600,000 km2, with 28 million inhabitants and a dozen national roads that are more or less passable depending on the season (barely more than a French department), the question of territorial accessibility is a crucial public health issue." Find out more: an article published by Le Monde on AerialMetric
Entrepreneurs
CEO of AerialMetric since January 2021, aeronautical engineer and holder of an MBA from INSEAD in 2006, Pierre-Loup Lesage's career in Madagascar began in 2009 when he was appointed Regional Coordinator for Madagascar and Niger for the William J. Clinton Foundation. He then joined PSI (Population Services International) as Country Representative and then Senior Country Representative between 2012 and 2020.
Stéphane Bihr (Chief of Technology Officer) is a French process engineer (ENSIC) who also studied at the University of California, Berkeley. He is a trained drone pilot (DGAC license) and the principal founder of AerialMetric. He has an intimate knowledge of Madagascar, having spent over 23 years in different parts of the red island. Stéphane is an expert in the design and conception of aerial imagery solutions and large UAVs (manned aircraft, multicopters and VTOLs).
Agnes Hiere (Chief Financial Officer): After developing technical skills in the financial industry (JPMorgan), Agnes strengthened her managerial skills in developing contexts, leading programs and organizations focused on strengthening health systems, rural socio-economics, agriculture and urban development (UN system, INGOs). Agnes Hiere is also founder and president of Golden Brick Road. Agnes holds an MBA, two masters degrees in law and public affairs, and a bachelor's degree in political science.
Partnership with I&P
AerialMetric is supported by I&P through the I&P Afrique Entrepreneurs 2 (IPAE 2) fund. The funds raised are intended for :
Strengthening AerialMetric's presence in Madagascar;
Exploration of two other countries in French-speaking Africa, with a view to an effective presence in 2025;
Strengthening of position in penetrated countries;
Focus on research and development (R&D) to improve drone flight technology and ergonomics.
Expected impact
Access to healthcare for people living in remote rural areas of Madagascar and future host countries;
Fight against malaria;
Reduction of carbon emissions linked to the transport of medical equipment and medicines;
Creation of local jobs for young people in an innovative sector, opening up opportunities for technical and specific professions (piloting, engineering) with decent salaries.