Innovex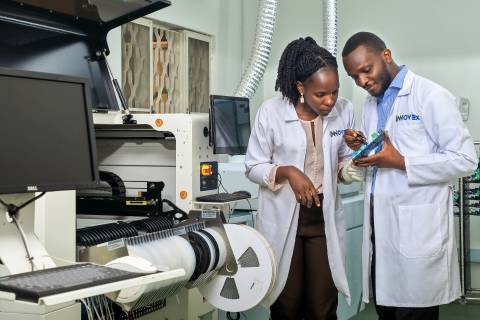 Associed fund
:
I&P Accélération Technologies, Inua Capital
Entrepreneur
:
Douglas K. Baguma, David Tusuubira
Innovex is a Ugandan company that has developed a smart meter coupled with an IoT solution that bridges the gap between solar energy providers/distributors and their last mile customers by giving the ability to remotely monitor, manage and turn on/off installed solar systems. This solution can be deployed in a variety of solar energy systems such as home systems, water pumps, cold chain storage and transportation systems, etc.
The entrepreneurs
Innovex was founded in 2015 by Douglas Baguma and David Tusubira with the purpose of creating technology equipment and solutions that remotely monitor the use and performance of off-grid solar energy.
Douglas K. Baguma has over six years of experience in the renewable energy industry and worked as a solar energy consultant on projects for the World Bank and the Center for Energy Conservation Research (CREEC) before establishing Innovex.
David Tusubira has accumulated extensive experience in several engineering fields, e.g., Internet of Things (IoT), automation, hardware, software development as Principal Investigator at iLabs@MAK at Makerere University (a Design, Art & Technology engineering college), where he conducted research projects and taught robotics (programming and basic electronics).
Partnership with I&P and Inua Capital
Innovex is supported by I&P Accélération Technologies, a €2.5 million program that aims to finance and support fifteen digital start-ups in Sub-Saharan Africa, supported by AFD through the Digital Africa initiative. In Uganda, Inua Capital is in charge of implementing this program.
This partnership will enable Innovex to:
Scale its business model
Expand its reach across Africa
Diversify its product offering