PALOBDE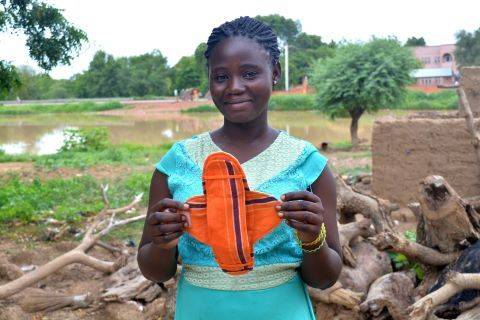 Status
:
Capital investment
Associed fund
:
I&P Accélération, USAID PACE, Sinergi Burkina
Entrepreneur
:
Emilie Palobde KYENDREBEOGO
PALOBDE is a company specializing since 2018 in the production and marketing of washable sanitary towels. In addition to meeting a hygienic need where Burkinabé teenage girls cannot afford disposable pads, PALOBDE promotes a local raw material (cotton) while respecting ecological standards.
THE ENTREPRENEUR
The initiative was led by Emilie Palobde KYENDREBEOGO, also involved with the NGO Helen Keller International in Burkina Faso. Previously, she held the positions of accountant and finance administrator at IFDC Burkina Faso.
CONTRIBUTIONS OF SINERGI BURKINA
Since 2019, the company has been supported by Sinergi Burkina as part of the Partnering to Accelerate Entrepreneurship (PACE) program in partnership with the United States Agency for International Development (USAID).
The objectives are as follows:
Carry out a market study to have a better visibility of the market
Realize and implementation of a communication plan
Company equipment to support growth (production equipment, rolling stock, office equipment)
Strong working capital to enable the company to build up a stock of finished products to respond quickly to orders
---
ABOUT SINERGI BURKINA

Created in 2014, Sinergi Burkina is the first impact investment fund dedicated to financing and supporting SMEs and start-ups in Burkina Faso. Headed by Job Zongo, Sinergi Burkina is the second investment fund sponsored by Investisseurs & Partenaires as part of the I&P Développement 2 fund. The fund network currently includes a fund in Niger (Sinergi Niger), Côte d'Ivoire (Comoé Capital), Senegal (Teranga Capital) and Madagascar (Miarakap). → To learn more about Sinergi Burkina
ABOUT USAID PROGRAM
Investisseurs & Partenaires and the United States Agency for International Development (USAID) launched in 2016 an innovative acceleration program for young companies located in Niger, Burkina Faso and Senegal. The partnership will support high-potential start-ups and small and medium-sized enterprises to facilitate their access to financing in a region where the ecosystem supporting entrepreneurship is still underdeveloped.