PEG Africa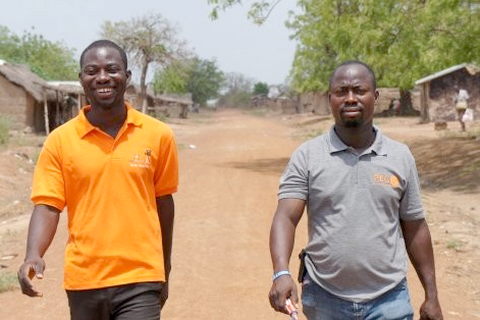 Entrepreneur
:
Hugh Whalan et Nate Heller
PEG Africa is a young company which aims to bring off-grid solar energy access to rural and peri-urban communities in West Africa by providing pay-as-you-go (PAYG) solar home systems to rural and remote customers. The company has started its activities in Ghana.
The model of the company is based on the combination of technical, distribution, and financial innovations:
Technical innovation: the product itself is a small solar kit allowing the client to light a few bulbs, recharge a phone, and listen to the radio. It is connected with the PEG management information system through mobile technology allowing the company to monitor remotely a number of items.
Distribution: the company is setting distribution points with dedicated sales teams around the country.
Financial innovation: this is probably the most important innovation. The client is paying its solar system as he uses it through mobile money payment of a few Euros per month. If he doesn't pay and recharge credit, the system is blocked and not usable by the client. After one year of payments, the client owns the product.
PEG has secured a licensing partnership with M-KOPA, the leading company in PAYG solar technology in Africa. M-KOPA has successfully deployed its products and methodology to more than 200,000 households in East Africa.
The entrepreneurs
Hugh Whalan, the CEO, has focused on energy and financing in West Africa for the last 6 years. He started the first crowd-funding site for energy, and a fast growing solar distribution company in Ghana, which he sold to a NY-based investor. Prior to his work in Africa, he was the director of business development for the largest US based carbon project developer.
Nate Heller, the Chief Operating Officer, has over 13 years of experience in international development, including stints with the UN, the Peace Corps, and multiple social enterprises. He spent 6 of those years building innovative distribution channels for poor consumers in West Africa.
Partnership with I&P
I&P committed alongside PEG to:
• Finance and support the company's expansion drive in Ghana and the sub-region
• Help structure the business in its early stages and institute appropriate corporate governance
• Facilitate debt and grant capital fundraising for the company to meet its target objectives
Expected Impact
• Connect over 500,000 remote and rural households in West Africa to solar power within 5 years
• Create significant financial inclusion by making off-grid households into a knowable and attractive customer proposition
• Reduce carbon emissions by replacing traditional kerosene use with a cleaner source of power
• Grow local employment by partnering with large local sales teams to drive growth over multiple regions