Salgatech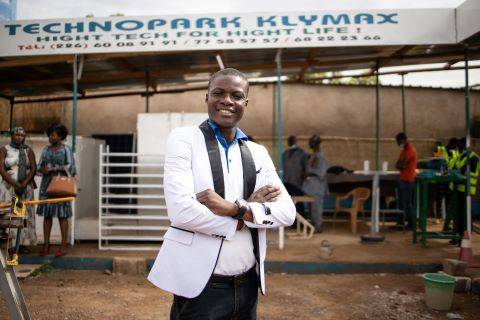 Associed fund
:
I&P Accélération, I&P Accélération au Sahel, Sinergi Burkina
Entrepreneur
:
Silvère SALGA
Salgatech is a company operating in the renewable energy sector. It specialises in the production and installation of multifunctional cold rooms and ice machines that it markets in Burkina Faso.
THE ENTREPRENEUR
Salgatech SARL was created in 2018 by Silvère SALGA. Inventor, innovator, writer and trainer, Silvère SALGA is a seasoned expert in entrepreneurship, research and development, and green energy. He is the author of several scientific works and discoveries such as, Tensis system, The Theory of Transforming Humanity and The Theory of the Changing Universe and has received several awards including the Thomas Sankara Medal for Invention and Innovation and the 2nd Prize for the Best Productive Energy Innovation of the Energy Week, and Renewable Energy in Africa (SEERA).
CONTRIBUTION OF SINERGI BURKINA
Salgatech is supported by SINERGI BURKINA as part of the I&P Acceleration in Sahel programme. The main objective of this partnership is to :
Relaunch and strengthen the production capacities of solar cold rooms
To set up a "cold landlord" service or service for renting solar cold room spaces.
Set up an internal accounting system run by a professional.
Strengthen the sales force
EXPECTED IMPACTS
Consolidation and formalisation of 17 existing jobs, 6 of which are full-time and 12 new formal jobs for young people and women.
Contribution to the economy through the payment of taxes to the tax administration
Reduction of imports and/or the use of electric cold rooms with harmful consequences for the environment
Strengthen the agricultural and food sectors by reducing post-harvest losses.
About Sinergi Burkina

Created in 2014, Sinergi Burkina is the first impact investment fund dedicated to financing and supporting SMEs and start-ups in Burkina Faso. Headed by Job Zongo, Sinergi Burkina is the second investment fund sponsored by Investisseurs & Partenaires as part of the I&P Développement 2 fund. The fund network currently includes a fund in Niger (Sinergi Niger), Côte d'Ivoire (Comoé Capital), Senegal (Teranga Capital) and Madagascar (Miarakap). → To learn more about Sinergi Burkina