Savonnerie Parfumerie du Houet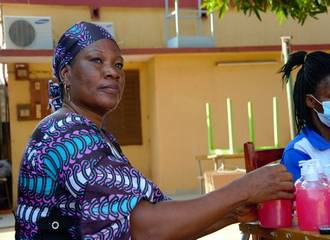 Status
:
Capital investment
Associed fund
:
I&P Développement, Sinergi Burkina
Entrepreneur
:
Moumouni KONATE
A family business created in 1996 by Moumouni KONATE, the Savonnerie Parfumerie du Houet (SPH) is a company specialized in the production and marketing of shea butter-based hygiene products.
At the beginning, it was just a simple artisanal soap production unit which, thanks to the dynamism and commitment of the team, has been able to modernize and position itself as one of the leaders in its field. Within the framework of its partnership with SINERGI Burkina, the SPH aims to market just over 3,000 tons of cosmetic products in Burkina Faso.
THE ENTREPRENEUR
A former career banker, Mr. KONATE has more than 15 years of banking experience and holds a professional banking diploma from the Institut des Arts et Métiers de Paris. During his entrepreneurial career, he was 1st vice-president and then president of the Global Alliance of Shea (AGK). His commitment and dynamism have earned him several laurels:
Industrial Companionship Award France/Africa/Mediterranean (2006) with l'OCCITANE
Knight of the Order of Merit of Commerce and Industry (2009)
Award for the best exporter of the Agency for the Promotion of Exports of Burkina Faso (2012)
Officer of the Order of Merit of Commerce and Industry in (2014)
CONTRIBUTION OF SINERGI BURKINA
The objectives of the partnership include :
Support to the managerial team and operationalization of the governance bodies
Reinforcement of the annual production capacity
Diversification of customers and products
EXPECTED IMPACTS
Formalization and protection jobs
Valorization of local products
Establishment of good governance
Payment of taxes and social contributions
About Sinergi Burkina

Created in 2014, Sinergi Burkina is the first impact investment fund dedicated to financing and supporting SMEs and start-ups in Burkina Faso. Headed by Job Zongo, Sinergi Burkina is the second investment fund sponsored by Investisseurs & Partenaires as part of the I&P Développement 2 fund. The fund network currently includes a fund in Niger (Sinergi Niger), Côte d'Ivoire (Comoé Capital), Senegal (Teranga Capital) and Madagascar (Miarakap). → To learn more about Sinergi Burkina​