XpressGas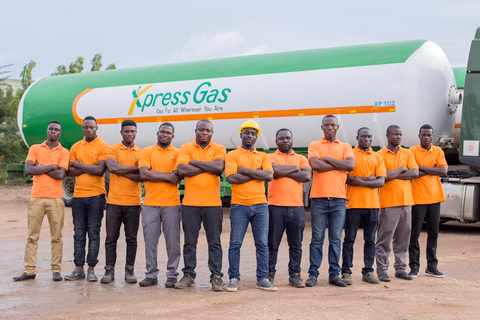 Status
:
Capital investment
Associed fund
:
I&P Expansion, IPAE 2
Entrepreneur
:
Kofi Nketsia-Tabiri
Site internet
https://xpressgas.com/
XpressGas Limited is the fastest-growing and one of the largest LPG (Liquefied Petroleum Gas) companies in Ghana.
The company was incorporated in 2009 and was granted a license by the National Petroleum Authority in 2010 to operate as an LPG Marketing Company. XpressGas currently owns 3 LPG refill stations, 23 LPG Bulk Road Vehicles (BRV-Trucks), and serves a network of 53 third-party owned stations across all the regions of Ghana.
The main focus of the business is on the peri-urban and rural areas of the country, and this is in line with the Government of Ghana's stated objective to increase access to LPG by 50% in 2030.
Liquefied Petroleum Gas (LPG) is increasingly becoming the preferred choice of fuel in the world and Ghana is moving in the same direction. The increase in patronage could be attributed to its affordability, efficiency and environmental friendliness. The impact potential of switching consumers from harmful traditional fuels such as firewood to LPG is significant.
The entrepreneur

The company is managed by a strong promoter who has built a well-structured business that has advanced up the ranks of the top LPG companies in Ghana within the span of just 8 years.
Mr. Kofi Nketsia-Tabiri brings over 18 years of investing, business development and entrepreneurship experience to the management of XpressGas. Prior to starting XpressGas, Mr Nketsia-Tabiri founded Patient Capital Partners, an energy project development and investment advisory firm that has undertaken several modern energy related projects for international organizations such as the World Bank, Triodos, African Development Bank, United Nations Environmental Programme, etc.
Kofi was the inaugural head of the business innovations unit in Africa at E+Co, the pioneering organization that funded over 250 clean energy investments in emerging markets before its restructuring in 2012. In 2017, Kofi was recruited as an Investment Consultant for the Africa Renewable Energy Scale Up Facility (ARESUF), under the auspices of Micro-Energy International and PROPARCO.
Partnership with IPAE 2
With support from I&P, XpressGas aims to:
•— Consolidate and cement its position in the B2B market
•— Accelerate the launch of the B2C cylinder recirculation model (CRM)
•— Improve health and safety standards
Expected Impacts
⇒— A company at the forefront in increasing LPG availability and access to consumers especially those in the rural areas who continue to suffer from Household Air Pollution (HAP)
Context: It is estimated that about 18% of households in Ghana use LPG as their primary source of cooking. The remaining 72% of households mostly depend on firewood and charcoal for cooking. Exposure to household air pollution is responsible for 16,600 deaths and the loss of 502,000 disability adjusted life-years annually.
⇒— LPG emits lower greenhouse gas emissions than alternatives, CO2 emissions are relatively low. Greenhouse gases are reduced by 5-16 times per prepared meal compared to coal.
⇒— Creation of over 300 direct and indirect jobs over the investment period with specialized training provided to staff
⇒— Contribution towards the development and structuring of the cylinder recirculation model in Ghana to create a safer environment for LPG distribution