$200 Million Mastercard Foundation Africa Growth Fund debuts to empower emerging African fund managers
Submitted by

Admin

on Thu, 12/01/2022 - 15:06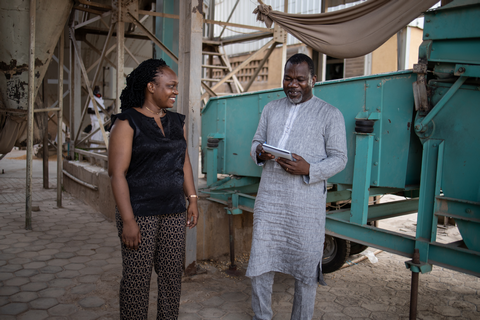 English
I&P is proud to be part of an innovative and bold initiative for the investment industry in Sub-Saharan Africa: the USD$200 million Mastercard Foundation Africa Growth Fund, a Fund of Funds which works through African investment vehicles to support early-stage, growth-oriented small and medium-sized enterprises (SMEs) on the continent.
I&P is the Fund advisor on this initiative led by the Mennonite Economic Development Associates (MEDA) and including as consortium partners: the BDS provider Entrepreneurial Solutions Partners (ESP), Genesis Analytics, the Criterion Institute, and Africa Communications Media Group.
About the initiative
Strategy
African SMEs struggle to access the financing they need to scale, inhibiting their potential. The Mastercard Foundation Africa Growth Fund tackles this challenge by investing in and strengthening African investment vehicles that in turn support African SMEs.
In addition to providing capital for investment vehicles, the Fund of Funds offers a business development facility for their portfolio companies.
Targets and objectives
The Fund-of-Funds initiative will use gender-lens investing (GLI) principles to help advance the Mastercard Foundation's Young Africa Works strategy, which aims to enable 30 million young people in Africa, particularly young women, to access dignified and fulfilling work by 2030.
A promising pipeline of 180 diverse investment vehicles has already been built, including Early-stage, Growth, Debt and Seed VC Funds and other non-traditional funds. Two investment vehicles have already been approved for investment and will be communicated soon.
Implementation and key actors
The Mastercard Foundation Africa Growth Fund is implemented by a consortium of partners, led by Mennonite Economic Development Associates (MEDA) and including Investisseurs & Partenaires (I&P), Entrepreneurial Solutions Partners (ESP), Genesis Analytics, the Criterion Institute, and Africa Communications Media Group.
Investisseurs & Partenaires (I&P) is the Fund Advisor for the Fund of Funds, responsible for sourcing, assessing, and supporting the investment vehicles.

About the Mastercard Foundation
The Mastercard Foundation is a Canadian foundation and one of the largest in the world, with approximately $40 billion in assets. The Foundation was created in 2006 through the generosity of Mastercard when it became a public company. Since its inception, the Foundation has operated independently of the company. The Foundation's policies, operations, and program decisions are determined by its Board.
About Mennonite Economic Development Associates (MEDA)
MEDA (Mennonite Economic Development Associates) has been implementing effective market-driven programs globally since 1953. MEDA combines innovative financial and technical expertise to build and enhance sustainable agri-food systems that provide decent work for people living in poverty with a focus on systemically marginalized communities, including women and youth. Our core expertise lies in market systems, environmental sustainability and climate action, gender equality and social inclusion, inclusive financial services, and impact investment. MEDA partners with local private, public and civil society actors, strengthening individuals, institutions, communities, and ecosystems, and thereby contributing to sustainable and inclusive systemic change.
About Investisseurs & Partenaires (I&P)
I&P is a pioneering impact investment group, entirely dedicated to financing and supporting entrepreneurs in Africa. I&P's multicultural team is spread over 10 sites in Africa (Burkina Faso, Cameroon, Ivory Coast, Ghana, Kenya, Madagascar, Mali, Niger, Senegal, and Uganda) as well as in France and the United States (Washington DC). Since its creation in 2002, I&P has funded more than 200 African SMEs and start-ups. It has also launched IPDEV2, the first sponsor of African impact funds, which anchored five new fund managers in Africa's frontier markets. Through its different vehicles, I&P now provides finance and support from seed to growth stage with ticket sizes ranging between EUR 10,000 and 5 million. 
About Entrepreneurial Solutions Partners (ESP)
ESP is a pan-African firm that aims to enable innovative, scalable, and profitable enterprises to build prosperity. Its mission is to foster entrepreneurial solutions for prosperity. ESP enables people, firms, institutions, and nations to articulate and implement solutions to their economic challenges. ESP's approach is to provide Intelligent capital™—the right combination of insights and capital—to address critical societal issues. The firm provides consulting and strategy advisory services to diverse clients, including governments, businesses, and development partners in Africa. It supports innovative models and provides leadership training and entrepreneurial support programs (incubators/accelerator programs). With offices in Abidjan and Kigali, ESP has been in operation since 2011, and has impacted more than 1,000 entrepreneurs across seven African countries through its entrepreneurial support programs (incubators/accelerators).
About The Criterion Institute
Criterion is an activist think tank specializing in gender lens investing. Its mission is to broaden what matters in economic decisions by expanding who has power and influence in the work of reinventing the economy. It focuses on finance because it is one of the most powerful systems in the economy. Criterion uses six pillars of its Theory of Change. It builds bridges and creates new thinking. Criterion's values of grace, hospitality, and the power of invitation have defined its work for the past fourteen years. Criterion Institute's role is to confirm GDEI-specific activities are implemented and targets met.
About Genesis Analytics
Genesis Analytics is a global African advisory firm that has worked in 92 countries across the world. Genesis' purpose is to unlock value in Africa for our clients and its citizens by helping them to make better decisions that are creative and optimistic, and sustainable and defensible over time. With expertise in behavioral sciences; competition economics and regulation; climate finance; the digital economy and regulation; economic impact assessment; financial services strategy; human development; monitoring, evaluation, and learning; public health and financing; shared value and corporate impact; and youth employment, this expertise leads to fresh solutions. Genesis clients include government, regulators, corporates, banks, development finance institutions, law firms, development agencies, foundations, NGOs as well as regional and international organizations and law firms. Genesis Analytics is the Learning Partner Organization and will support the initiative with refining the Theory of Change and Learning Agenda, developing a data dashboard for M&E data collection and monitoring performance across the initiative.
About Africa Communications Media Group
Africa Communications Media Group is the first female-led, African-owned, pan-African agency handling communication for global clients in the African context. The firm provides strategic communications solutions in response to a need for integrated, culturally-attuned and effective solutions specifically designed for the complex and diverse African landscape. The ACG team is passionate about driving Africa-centric business and communication objectives with an experienced network and reach that extends across the continent.
Read more

Find out more on MEDA website

Read Press Release