Africa's Big Boom
Submitted by

Admin

on Mon, 10/15/2012 - 11:55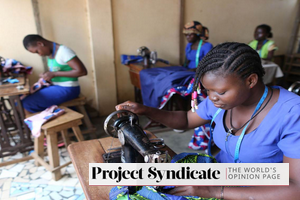 Source
:
Project Syndicate
Jean-Michel Severino, CEO of Investisseurs & Partenaires, and Emilie Debled, Communication Director, reviennent sur la forte croissance économique africaine.
L'article est paru en 2012 dans Project Syndicate.

Découvrir l'article
"L'Afrique vit actuellement une période de croissance économique sans précédent. D'après The Economist, six des dix pays ayant connu la plus forte croissance en 2011 se situent sur le continent africain. La moyenne de la dette extérieure de l'Afrique est passée de 63% du PIB en 2000 à 22,2% cette année, l'inflation moyenne s'élevant aujourd'hui à 8%, contre 15% en 2000. Cette tendance positive devrait se poursuivre, dans la mesure où elle repose sur des facteurs structurels, géographiques et démographiques, tels que l'augmentation des exportations, l'amélioration des conditions commerciales, ou encore une consommation intérieure en constante croissance."