Catherine Krobo-Edusei (Eden Tree) at the Women' Food Leadership Forum
Submitted by

Admin

on Thu, 02/18/2016 - 17:06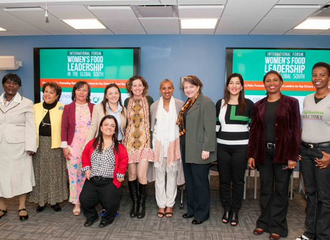 English
Catherine Krobo-Edusei, founder and director of Eden Tree in Ghana, has delivered a keynote address during the International Forum for Women's Food leadership, held in Washington DC on October 27-28.
Eden Tree was founded in 1997 and has become the leading independent provider of fresh fruits, vegetables and herbs in the Ghanaian marketplace. As expressed by Catherine Krobo-Edusei, one of her key motivations to start this business was that she could not find healthy and clean vegetables for her kids in Ghana.
Catherine also mentioned how she managed to overcome some of the greatest challenges she encountered when starting and building her business (negotiate with banks, train the outgrowers…)
Picture: Catherine Krobo-Edusei (second from the right) with some of the participants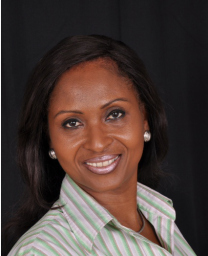 Catherine Krobo Edusei Benson is a Ghanaian entrepreneur, Founder and CEO of Eden Tree, Ltd, a supplier of fresh herbs, fruits, and vegetables in Ghana, and has been in food and agribusiness for the last 18 years. Catherine started her career as a banker at the Saudi American Bank office in London where she worked for 10 years. She returned to Ghana in 1996 and started Eden Tree in 1997. Her success with Eden Tree has earned her several distinctions and awards including a Life Time Achievement Award for Promoting Urban Farming in Ghana, the Ghana Agribusiness Entrepreneur Award of the Year 2013, and the TV Africa Award in Recognition of Women of Substance and Distinction in the Ghanaian Society. She earned a Diploma of Business Administration from Camden College in London.