COVID-19 : Enko Education is implementing distance learning in all its schools
Submitted by

Admin

on Wed, 04/01/2020 - 11:19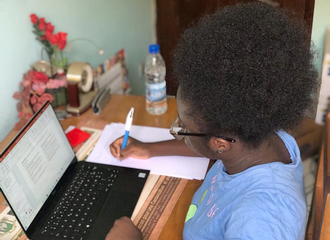 English
In March 2020, due to the Covid-19 pandemic affecting the whole world, all the Enko Education schools have closed their doors, for a period still uncertain.To cope with the closure of its 15 international African schools and ensure continuity in education, Enko Education has implemented, in a few days, distance learning for all its students.

Read more on Enko's website
"From the start of the pandemic, before it reached Africa, we created a Covid-19 taskforce to anticipate all scenarios. This taskforce sets guidelines for our schools, and gives them the support they need to put them in place."

Eric Pignot, Founder and CEO of Enko Education
Online courses have started: teachers are making resources and exercises available on the Google Classrooms platform, and online classes are given via Zoom. For students who don't have Internet at home, Enko has printed booklets with all the resources and homework. A monitoring system was set up: teachers have daily interactions with their Head of School, and share weekly reports of the work carried out and the lesson plans for the coming weeks.
"Before governments issued closing orders, all teachers in the network received training on how to use distance learning tools such as Zoom and Google Classrooms. Each teacher has created a distance learning schedule for each of their classes, shared with parents and students."

Ariane Baer-Harper, Director of Enko Education in Senegal and in charge of the Covid-19 taskforce for the group.
About d'Enko Education
Enko Education is a fast-growing network of African international schools, increasing access to the world's best universities for learners across Africa, with a strong emphasis on Francophone countries. Enko partnered with the fund I&P Afrique Entrepreneurs 1 in 2016.

Access I&P's factsheet on Enko Education

Access Enko's website