Focus on latest GIIN's "Impact Investor Survey"
Submitted by

Admin

on Fri, 08/23/2019 - 10:52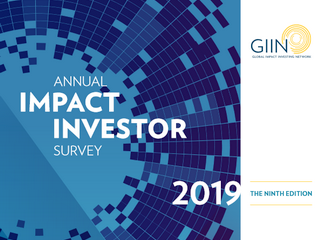 English
The Global Impact Investor Survey (GIIN) published the annual edition of its "Impact Investor Survey". The report captures data from 266 impact investors collected via a survey distributed during January and February 2019.

Download full report
Key Takeaways
► Impact investing market: $502 billion for the total market (in its report "Sizing the Impact Investing Market").
► Growth: Investors expect their assets under management to increase by 18% in 2019.
► Regions : After North America, Sub-Saharan Africa is the second largest continent with 14% of assets under management. Half of the impact investors plan to increase their assets in Sub-Saharan Africa.
► Average ticket size: $5.5 million for private equity transactions.
► Instruments: 70% of transactions are in debt, 6% in private equity.
► Sectors: Financial services (24%); Energy (15%); Agribusiness (10%) [...] Education (4%).
► Gross returns: in private equity and for investors focused on developing countries, the gross return was 16.9% for investors targeting market returns and 10.6% for investors targeting below-market returns.
► 2/3 of respondents only make impact investment; the other third also make conventional investment.
► 70% of respondents have developed a "gender" perspective in their investment process.
About the Global Impact Investing Network (GIIN)
The Global Impact Investing Network (GIIN) is the leading global champion of impact investing, dedicated to increasing the scale and effectiveness of impact investing around the world. The GIIN builds critical infrastructure and supports activities, education, and research that help accelerate the development of a coherent impact investing industry. Click here for more information.