Foresight Africa: top priorities for the African continent in 2016
Submitted by

Admin

on Fri, 02/19/2016 - 09:10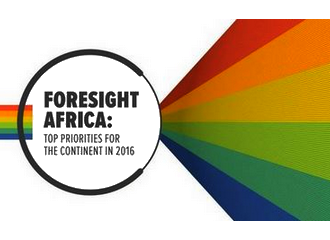 English
The Africa Growth Initiative just released the updated version of the annual Foresight Africa report.
As described by the authors, "this year's format is different from years past, encompassing viewpoints from high-level policymakers, academics, and practitioners, as well as utilizing visuals to better illustrate the paths behind and now in front of Africa".
The study identifies six priorities for the year to come to keep Africa on its current rising trajectory:
Managing economic shocks (including the economic slowdown in China, declines in commodity prices, the US Federal Reserve interest rate hikes)
Sustaining domestic growth: revitalize the region's industrial development and focus on job creation
Supporting human development
Capitalizing on urbanization. As the second fastest urbanizing region in the world, Africa needs strong infrastructure and planning policies
Maintaing governance gains: the regional governance puzzle and the complex institutional changes
Expanding African trade: creating a comparative advantage and strengthening regional partnerships
Chapter 2, by John Page, emphasizes the challenge of job creation for the African continent:
"The single most important contribution the SDGs make to Africa is that they explicitly recognize that sustainable development means creating good jobs—jobs that pay living wages, offer dignity of work, and create a chance to develop new skills. (…)In Africa only one in five workers find employment in the wage economy. The rest are forced to settle for low-paying work, often through self-employment in the services sector where output per person is only about twice that in agriculture."
---
About Foresight Africa
The Foresight Africa project is a series of reports, commentaries and events that aim to help policymakers and Africa watchers stay ahead of the trends and developments impacting the continent. Since 2011, the Brookings Africa Growth Initiative has used the occasion of the new year to assess Africa's top priorities for the year.