Gender Inclusivity: a priority for Ghanaian company PEG
Submitted by

Admin

on Fri, 03/09/2018 - 16:53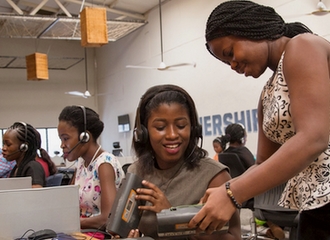 English
PEG is a young company headquartered in Ghana which aims to bring off-grid solar energy access to rural and peri-urban communities in West Africa by providing pay-as-you-go (PAYG) solar home systems to rural and remote customers.
With the support of Power Africa, PEG is implementing gender-inclusive business practices in the off-grid energy sector in West Africa, which are detailed in a recent article published by Medium.
PEG's gender-inclusive practices have been detailed in a Gender Action Plan that will guide PEG in implementing, and measuring the impact of, activities to advance gender equality and women's empowerment in one of the leading pay-as-you go businesses in the region.
By applying a gender lens to several areas of its business, PEG aims to meet 5 key objectives:
Increase the number of women in decision-making positions
Strengthen internal policy frameworks
Improve repayment rates
Increase the number of female customers
Increase employment of women in field staff positions
Two months after developing this Action Plan, PEG has filled two competitively selected senior management positions with female hires, including the Ghana Country Director position. PEG has also developed a framework for a mentorship program to develop women leaders in PEG, which will be piloted from March 2018.
As stated by Hugh Whalan, Co-Founder and CEO of PEG: "We think there are a lot of opportunities in our business that are ignored because women are often ignored or overlooked. We are excited about exploring how to build a better business by being more inclusive about how we engage with gender."
About Power Africa
Power Africa is a program developed by USAID (United States Agency for International Development). Its goal is to add more than 30,000 megawatts (MW) of cleaner, more efficient electricity generation capacity and 60 million new home and business connections