Growth prospects in Sub-Saharan Africa, an analytical document
Submitted by

Admin

on Mon, 04/25/2016 - 14:29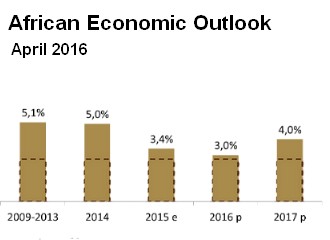 English
The recent reports of the World Bank and the IMF underline the slowdown in African growth (expected at 3% for the coming year), under the combine effect of the continuing weakness in global growth and the falling commodity prices.
We observe however a great disparity among countries, and especially between oil importers and oil exporters. The fall of commodity prices is actually more of an advantage for the first group of countries, while it seriously questions the economic model of the second group.
I&P advisor Pierre Ewenczyk, specialized in macro-economic issues, presents some key perspectives and conclusions in a summary document.
A deceleration of growth…
Growth in sub-Saharan Africa has weakened after more than a decade of solid growth. Sub-Saharan Africa's gross domestic product (GDP) growth decelerated to an estimated 3.0% in 2015 from 4.5% in 2014, according to the latest World Bank projections.
The fall in commodity prices since the beginning of 2015 represents a significant shock for the region, as fuels, ore and metals account for more than 60% of the region's exports. The impact is seen most in oil-exporting countries (Nigeria, Angola, Equatorial Guinea…), where growth is estimated to have slowed from 5.4% in 2014 to 2.9% in 2015 on average
… with strong disparities among countries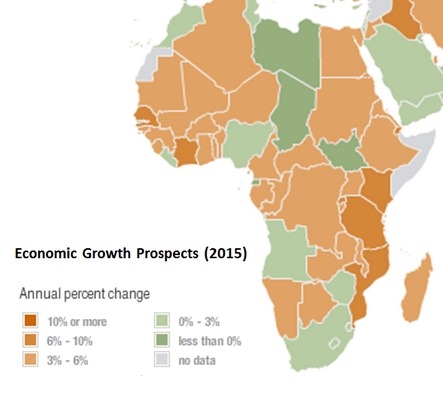 Until early 2000s, African economies have followed a relatively similar growth path. We now observe a diversification of economic models (especially since 2012-2013), with four main categories: oil exporters, oil Importers, countries specializing in industrialization / export and failed States.
The current situation (lower commodity prices) appears to be more favorable for countries that are net oil importers, where growth remains strong (above 6%).
"With external conditions likely to remain less favorable than in the past, African countries need to accelerate the pace of structural reforms aimed at boosting competitiveness and diversification," says Punam Chuhan-Pole, World Bank Africa acting chief economist.
.