Interview of Boureïma Lam, Malian Entrepreneur
Submitted by

Admin

on Wed, 10/18/2017 - 12:00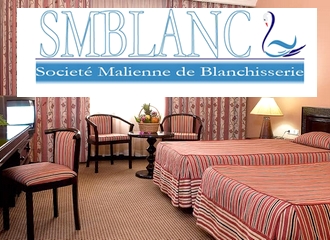 English
17 years ago Boureïma Lam launched one of the very first dry-cleaner's of Bamako (Pressing Lam). Observing the lack of professional offer for the hotel industry, he starts in 2007 an industrial laundry dedicated to this clientele. Today "La Société Malienne de Blanchisserie" (SMBLANC) is the only professional laundry service provider in Mali and counts among its clients the biggest hotels in Bamako (Azalaï, Radisson, El Farouk, MICASA, ONOMO, Massaley…) and other professionals (restaurants, clinics, industrial and services companies).
Boureïma Lam, founder and Director of SMBLANC, has more than 20 years of experience in business management. He works on the strategic and financial aspects with his son Boubacar Lam, who holds a Master on International Finance Engineering from INSEEC Business School and an MBA from NEOMA Business School.
3 Questions to Boureïma and Boubacar Lam
SMBLANC has been launched 10 years ago. What are the main evolutions your company and the sector experienced over the decade?
Unlike a traditional dry cleaner's company, SMBLANC offer its services to professional customers including: hotels (sheets, duvet covers, pillowcases…), restaurants (napkins, dish towels, tablecloths), hospitals and industrial and service companies (hand towels, work clothes, carpets…)
At first we focused on ''business'' hotels in Bamako. With an average of 150,000 business tourists per year, Mali welcomes an increasing number of international and national visitors. There are about 675 hotels all over the country, 57% of which being based in the capital-city Bamako (in other word 385 hotels and a capacity of 5 500 rooms)
Our activity has grown with an average growth of 9% per year since its creation. Hotels have been able to maintain their regional business clientele, which really boosted our business.
How did you meet I&P and what can you get from this partnership?
We have a proverb saying "Knowledge is a field, but if it's not plowed or guarded, it will not be harvested". For me this illustrates our state of mind when we are looking for a financial partner to accelerate the growth of our company.
My son Boubacar has worked in the financial sector in Paris, so he contacted a few investment funds. This is how we first get acquainted with Investisseurs & Partenaires, which is dedicated to support SMEs in Sub-Saharan Africa and already has a strong presence in the Sahelian region.
In line with our objective to expand and ensure the viability of SMBLANC, we notably expect a support in the formalization and structuration of the company so as to be able to create formal and stable local jobs. I&P will also support us with the generational transmission of the company, so that my children can take over in the future!
What are the projects on the medium and long-term of the company?
SMBLANC was launched to participate in the growth of tourism, industry and health sectors in Mali. Every day the company cleans between 1.5 and 5 kgs of linen for different kinds of customers. Based on our know-how and our network, we launched an awareness campaign on the risks and consequences of infections.
Our objective on the medium and long-term is to deepen our network and expand our offer. To achieve this objective, our strategy is structured around five key pillars:
Consolidation and professionalization of the company, with new measures to improve our environmental impact;
Development of the activity with hospitals and clinics. But first it is necessary to warn health professionals of the risks of infection and disease that can spread if the linen has not been cleaned properly ;
Improving operational capacities thanks for the training of the employees;
Introduction of new products and services: work clothes rental, airline companies…;
Regional development of our activity with the possible opening of subsidiaries (Abidjan, Dakar, Ouagadougou, Conakry, Lomé, Cotonou).