Interview with Sylvie Sagbo, CEO of SENAR Les Délices de Lysa
Submitted by

Admin

on Thu, 04/19/2018 - 11:37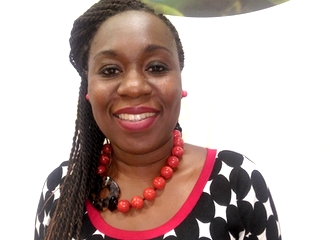 English
SENAR Les Délices de Lysa is a Senegalese family business specializing in the processing of peanuts, cashews and maize. Created in 1982 by Lydie Sagbo, the company is managed since 2015 by her daughter, Sylvie Sagbo. In November 2017 SENAR formalizes a partnership with Teranga Capital, an investment fund sponsored by I&P dedicated to Senegalese SMEs and start-ups.
The company processes high quality natural products following artisanal manufacturing processes. The team currently has about fifteen people, including more than 85% women.
We met Sylvie Sagbo, President of SENAR Les Délices de Lysa :
1 / Why did you decide to take over the management of SENAR, a company created by your mother?
I "grew up in SENAR'' – so to speak – as my mother, Lydie Sagbo, started the business in 1982. I've always been interested in the company, including when I was in school or working abroad. In 1994 I went to France for a bachelor's degree - followed by a Master's degree in Financial Markets. In total I spent more than 20 years in France, a large part of that time as a consultant in market finance. But the urge to move on was more and more pressing, and the arrival of my twins was a real trigger. After launching an African restaurant in Ile-de-France, which I managed for two years, we decided with my family to come back to Senegal. The decision was even easier to make as Dakar is an exciting city in full transformation, where things are changing fast!
I definitely returned to Dakar in September 2015, and I started then working full-time for SENAR. The objective was to prepare the succession, my mother wishing to withdraw gradually from the company (she is now President of the Board of Directors of SENAR). If the company needed to be restructured, I was aware of the potential of our products and I wanted to give SENAR the opportunity to fully develop its potential.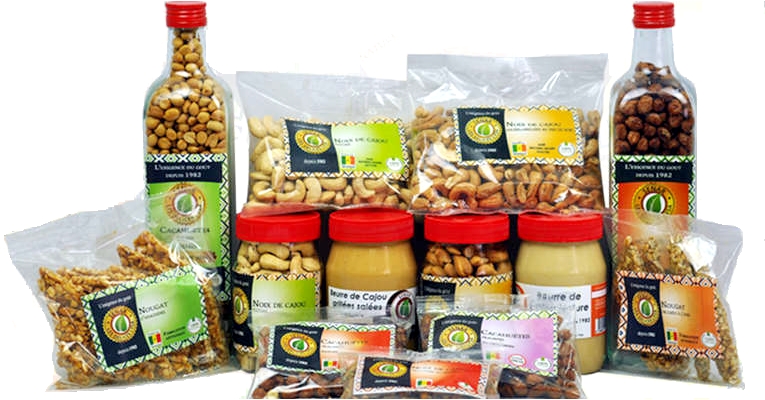 SENAR's products
2/ How did you first meet Teranga Capital? What's the purpose of this partnership?
It was the founders of Teranga Capital - Olivier Furdelle and Omar Cissé - who first came to SENAR. The first meeting was in 2013, but the fund was still in its project phase at that time. We met again in 2016, and after that we worked on a detailed business plan. SENAR is a growing business (our turnover increased by 55% in 2016 and by 61% in 2017) - but it needed a little help to move forward. This is the challenge of the partnership with Teranga Capital!
In parallel we are actively working on commercial prospecting. We have chosen to offer innovative products to distinguish ourselves from the competition and this has greatly boosted the commercial development of the company (we offer for example cashew pralines with sesame seeds, peanut pralines with ginger, pure cashew butter ...). We make most of our sales through mass retailers (Auchan, Casino ...), but we also present the products at many trade shows and markets, such as the Paris International Agricultural Show in France or the Dakar Farmers Market, which takes place every month. These events are important because they allow us to meet customers directly and test new products.
3 / What are your short and medium-term projects for SENAR?
The primary objective is the complete renewal of our production tools. This involves the construction of a new factory: the workshops are still based in the family house and it becomes increasingly difficulty to meet the demand! The new factory, located near Dakar, is under construction and will be operational by September 2018.
Business development remains one of our priorities. SENAR has not hired sales representatives so far, and everything was done by my mother and me in this domain! This seems a necessary step to ensure local anchoring, develop orders and ensure their follow-up.
Finally, we are putting more and more emphasis on exports, with the aim of extending the distribution of our products in the sub-region. We start the prospection in Côte d'Ivoire but also in France, where I made several interesting meetings on the occasion of the Agricultural Show.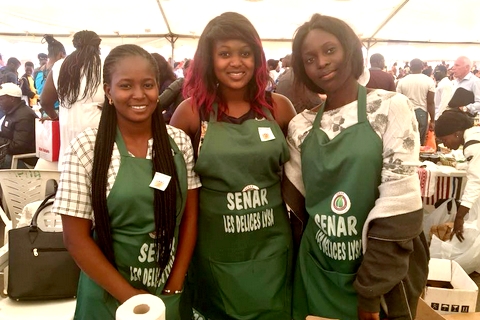 SENAR at Dakar Farmers Market (March 2018)
4 / What are currently your biggest challenges?
As with many SMEs in Africa, our biggest challenges are finance and human resources. Our working capital requirements are high because we have a large stock of raw materials to purchase in the year. We have to use campaign credits every year - and banks are often cautious about lending to SMEs. However, there is a clear improvement this year following the investment in Teranga Capital: the presence of a capital-investor gives confidence to local banks.
In addition, it is very difficult to find operational human resources who wish to make a long-term commitment to the company and adopt its vision. We still work a lot with day laborers, who do not necessarily have a sense of belonging to the company. That being said, things are gradually changing with the new generation of young employees coming out of college!
5 / A word of conclusion: what advice(s) would you give for entrepreneurs-to-be?
I encourage all those interested in launching a business to go for it: entrepreneurship is a great adventure, even if it takes a lot of perseverance and courage. In my opinion it is necessary to define first its business model and business plan to verify the viability of the project. What also drives the success of your project is the will and confidence in your business and product.
Go further :