I&P : Supporting African Entrepreneurship for 15 years
Submitted by

Admin

on Tue, 01/17/2017 - 16:58

English
In 2017, Investisseurs & Partenaires is celebrating its fifteen years of activity. A good opportunity to reflect on the creation and evolution of this innovative project, always driven by the will to contribute to the emergence of a sustainable private sector in sub-Saharan Africa.
Introduction by Pierre Daubert, former advisor I&P
Pierre Daubert manages the art gallery Angalia, specialized in African contemporary art. He is part of I&P's adventure since the very beginning, participating as an advisor to Patrice Hoppenot and his team from 2002 to 2011. In a book to published soon, he reflects on I&P's launch and evolution since 2002.

Patrice Hoppenot founded Investisseurs & Partenaires in 2002… in other words, I&P celebrates the 15th year of its existence! I&P will publish several documents and testimonies to celebrate this anniversary, alongside a short book that I wrote on I&P's story from 2001 to 2011.
The idea of writing this book came to me when Patrice Hoppenot decided to retire and Jean-Michel Severino took the direction of I&P in 2011. As a close friend of Patrice, I wanted to share the story of I&P's beginnings.
The story of I&P is indeed quite extraordinary. When he conceived this project, Patrice Hoppenot barely knew Africa. His own experience was mainly about private equity in Europe, and he knew little about development issues in Africa. He was driven however by one key conviction: it was possible for the private sector to successfully invest in African SMEs with an entrepreneurial approach and private equity could be a useful tool to African businesses, at it has been the case in Europe.
Ten years later I&P had become important and attractive enough for one of the key representatives of official development aid, Jean-Michel Severino (who headed the French Development Agency at that time) to take the lead. Today I&P is widely acknowledged as one of the pioneer of SME financing in Africa, but also as one of the first impact investor on the continent. Quite an unusual trajectory for a project conceived by a private equity specialist!
The book to be published in December describes this story step by step, thanks to the dozens of testimonies gathered and the friendly collaboration of the historical actors of I&P.
Patrice Hoppenot did everything he could to transform his first intuition into a durable model and he succeeded: his great idea today boosts entrepreneurship in 15 African countries. It is an exciting success – and the best is yet to come!
Focus on I&P's story
Investisseurs & Partenaires was launched in 2002 by Patrice Hoppenot, a renowned private equity professional. He wanted to share his own experience and contribute to the development of a sustainable private sector in Sub-Saharan Africa. Over a decade, the first fund of I&P (IPDEV1) invested more than 10 million euros in 33 start-ups and small African businesses.
In 2011, Patrice Hoppenot retires and hands over to Jean-Michel Severino, former Executive Director of the French Development Agency (2001-2010). Soon after I&P launches its new pan-African fund, I&P Afrique Entrepreneurs (IPAE) and opens several offices in Africa: in Senegal, Madagascar, Ghana, Côte d'Ivoire, Cameroon, and Burkina Faso. In parallel I&P starts an innovative program (IPDEV2) aiming to incubate and sponsor 10 African impact funds in 10 African countries.
To read more, explore our story on I&P's website! ►

Documentation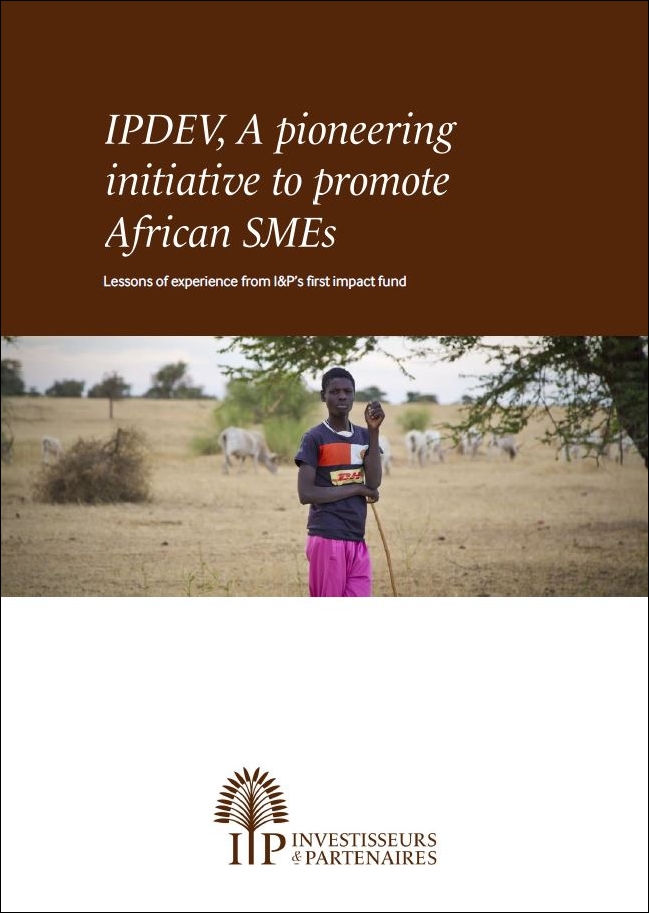 IPDEV, A pioneering initiative to promote African SMEs
Publication Date: September 2017
15 years after its creation, Investisseurs & Partenaires publishes a short document reflecting on the successes, drawbacks and key lessons learned from its first impact fund: Investisseur & Partenaire pour le Développement (IPDEV).
In the first part, we present the history of IPDEV, from its pioneering debut to the diversification of the investment vehicles required to encompass the growing range of its operations. We lay out the key features of IPDEV's approach which is to bring its skills in management, strategy and finance to support SMEs and help them develop in a sustainable manner and generate high impact.
In the second part, we draw 15 key lessons from of our 15 years of investment experience following 3 aspects: the enterprise and its management, the investor strategy and the investor's operations.

Download the document