I&P co-organizes the 5th training seminar dedicated to its investees
Submitted by

Admin

on Fri, 10/21/2016 - 09:29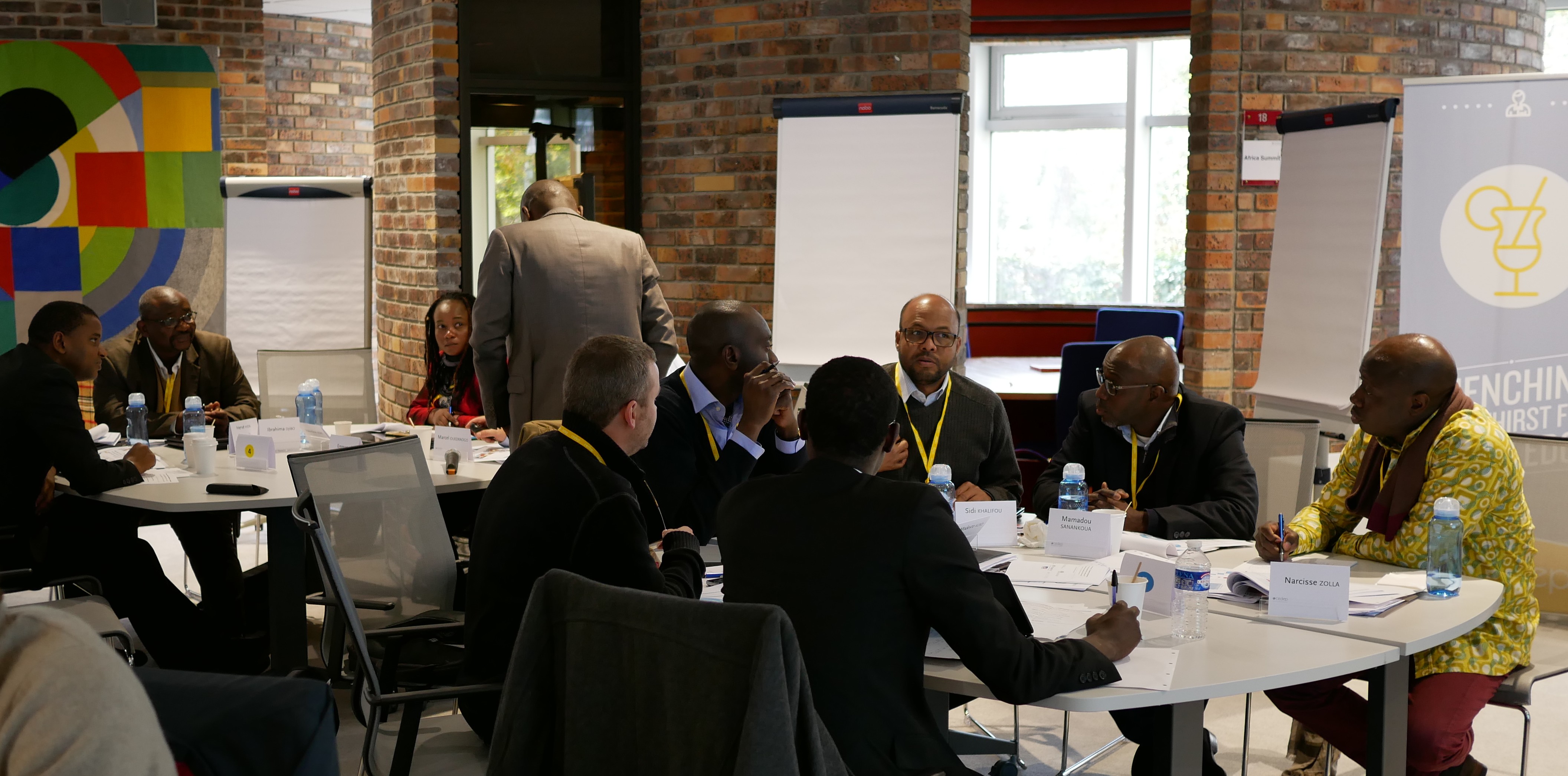 English
From October 19 to 21, Investisseurs & Partenaires, in partnership with the African Club of Entrepreneurs (Club Africain des Entrepreneurs), organizes the fifth annual meeting of its partners, gathering about fifty managers of African businesses in CEDEP, Fontainebleau. Organized in partnership with FISEA, Proparco and the European Bank of Investment, this training seminar focuses this year on communication and marketing issues and addresses a particular issue: how to build an identity that builds on the values of the company and create a differentiation on the market.
A seminar focused on branding and differenciation strategies
Based on the observation that the capacity to communicate effectively on their activities among various relevant actors lies at the heart of the SMEs' development strategies, this year entrepreneurs' seminar offers a two-day training on the communication and marketing best practices. Gathering around fifty I&P's investees, the training revisits the major principles of reputation and brand policies and provides entrepreneurs with directly applicable tools to enhance their company's value.
For the last two years, the seminar has been organized jointly with the CEDEP, a club training on strategy, management and marketing matters dedicated to executives. The training is provided by Frank AZIMONT, founder of the Market Shaping Institute (a research institute on marketing matters) and CEDEP program's Manager. He is a partner of Gauthier BOCHE, FutureBrand's strategy and development manager. Both of them present new strategies to face the specific challenges meet by the attending enterprises. Besides the training sessions, the participants also participate to various activities, among which the General Meeting of the African Club of Entrepreneurs and the introduction of book "Enterprising Africa" written by Jean-Michel Severino and Jérémy Hajdenberg last September.
Training African managers: a key motivation leading to the creation of the African Club of Entrepreneurs
Since 2012, I&P has launched an annual training seminar on the major issues its investees are facing. In addition to strengthening entrepreneurs' skills on relevant subjects (human resources, management information system, finance, CSR etc.), it provides an opportunity to exchange information, best practices and experiences. "Strengthening the skills of African managers on daily topics is the primary objective of these seminars. The African Club of Entrepreneurs is the result of this initiative in order to create a long-term platform to exchange information and best practices " explains Sidi Khalifou, CEO of CDS and Secretary General of the Club.
After the constituent General Assembly of October 2015, the Club was officially launched at the African Development Bank in Abidjan, June 2nd, 2016, during an event bringing together prominent personalities of the financial sector and the impact investing sector (Laurent Farge, Regional Representative in Western Africa of Proparco, Robert Masumbuko and Robert Zegers from the African Development Bank, and Jean-Michel Severino, CEO of I&P) about the importance of advocacy for African entrepreneurship today.
A year after its founding decision, the Club already presents a good track-record: it presented five member enterprises at the Lead Campus (a training organized by Sciences Po Paris, Cape Town University, and Dakar ISM), it organized various national meetings and received numerous partnership offers which are now in course of concretization. Moreover, Dr Elisabeth Kacou questioned public decision makers on policies supporting SMEs and local production. Next year will be dedicated to raising funds to set up programs and develop the networks' offer, in line with the commitment for sustainable entrepreneurship in Africa.
Partners

The African Club of Entrepreneurs gathers a network of entrepreneurs operating in Sub-Saharan Africa and aims at developing business opportunities for its members and promoting entrepreneurship on the continent. The Club is currently made of I&P partner companies and its members are based in fifteen countries in West and Central Africa and the Indian Ocean.
Investisseurs & Partenaires (I&P) is an impact investing group dedicated to small and medium enterprises in Sub-Saharan Africa. Beyond investment, I&P provides technical and strategic support to meet the growth needs of its portfolio companies. Since its inception in 2002, I&P has supported about 60 companies operating in 15 African countries. Created by Patrice Hoppenot and headed by Jean-Michel Severino since 2011, the I&P team comprises about thirty collaborators in Paris and in its six African offices in Cameroon, Côte d'Ivoire, Senegal, Ghana, Burkina Faso and Madagascar.
As the bank of the European Union, the European Investment Bank (EIB) has been making available its finance and expertise in support of sound and sustainable investment projects both within and outside Europe for over 50 years. In the Africa, Caribbean and Pacific regions it has invested more than EUR 18 billion in over 1 300 projects carried out in 92 countries and regional groupings. The EIB Group provides technical assistance to improve the contribution to developing the projects that it finances and strengthen the capacities of its financial counterparts and final beneficiaries
The Investment and Support Fund for Business in Africa (FISEA), makes equity investments in businesses, banks, microfinance institutions and investment funds in Sub-Saharan Africa. FISEA has a five-year investment target of 250 million euros, in addition to private investment funds. It targets the most unstable or post-crisis regions, as well as sectors traditionally bypassed by investors, such as agriculture, microfinance and health care. A 5 million euros grant has been earmarked for technical assistance to companies in its investment portfolio.
CEDEP brings together companies of diverse industries from all over the globe to share best practices, develop networks and work in the mutual interest of improving tomorrow's organisations. With over twenty members, CEDEP welcomes over 2,000 participants to its campus every year for both traditional open enrolments programmes as well as customised company specific programmes. CEDEP is lucky to be able to carefully select its professors from a global network of over 100 top business schools and choose top speakers in their fields. The CEDEP Academic Committee innovates pedagogical methods, benchmarks and keeps CEDEP on the cutting-edge of executive education. CEDEP prides itself on serving its members to keep up with today's every changing business complexities and offering its members a beautiful working environment designed specifically for executive education.