I&P finances two tech companies in Côte d'Ivoire through its I&P Acceleration Technologies program
Submitted by

Admin

on Thu, 05/06/2021 - 14:29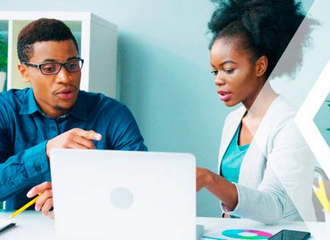 English
Keiwa and Legafrik, two Ivorian start-ups operating in the tech sector, have recently joined the portfolio of I&P Acceleration Technologies, a program aiming to finance and support about fifteen digital start-ups in Sub-Saharan Africa.
These two companies will benefit from seed financing and strategic support, provided by I&P Acceleration Technologies and the team of Comoé Capital, I&P's partner in Côte d'Ivoire.
About Keiwa et Legrafrik
Keiwa and Legrafrik are two young Ivorian companies that both offer tech services specifically dedicated to small and medium-sized African companies:
Legafrik is the first digital platform designed to simplify legal, administrative, tax and accounting procedures in OHADA countries. The platform allows entrepreneurs and small businesses to save time and money through a dematerialized process.
Legafrik was co-founded by two young Ivorians, Youssouf Ballo and Daouda Diallo.

Read more about Legrafrik
Launched in 2019, Keiwa is an application for simplified accounting, financial management and inventory management led by three young Ivorians, Fabrice KOFFI, Bertrand DAGO and Terrence KONDOU. The application is dedicated to African SMEs, to multi-site structures, as well as to the partners offering services to these SMEs (e.g. suppliers, financial institutions, telecom operators).

Read more about Keiwa
About I&P Acceleration Technologies
Launched in 2019 with the support of the French Development Agency through its iniative Digital Africa, I&P Acceleration Technologies is a €2.5 million program that aims to finance and support some fifteen digital startups in Sub-Saharan Africa, with a focus on Western Africa, Central Africa and Madagascar.
With these two new financings, I&P Accélération Technologies has so far financed five companies, including Teliman, the very first on-demand motorcycle cab service in Bamako, Mali, SmartPredict, a SaaS platform using artificial intelligence for predictive analysis that helps companies deploy their projects, and Jiro-Ve, a pioneering rural electrification company in Madagascar.
I&P Acceleration Technologies is financed by AFD through the Digital Africa initiative.

The AFD group finances, supports, and accelerates transitions towards a more just and sustainable. Climate, biodiversity, peace, education, urbanization, health, governance… Its teams are involved in more than 4000 projects in 115 countries and French overseas territories.
Since 2016, the agency has been actively supporting digital innovation on the African continent, through initiatives such as the AFD Digital Challenge startup competition, the Afric'innov, AFIDBA, and the Social and Inclusive Business Camp (SIBC). The I&P Acceleration Technologies program is financed by the Digital Africa seed fund, which is a component of the Choose Africa offer by which AFD Group commits to devoting 2,5 billion euros to African startups, VSEs and SMEs by 2022.

Read more about I&P Acceleration Technologies