I&P selected for the ImpactAssets 50 2021 (IA 50)
Submitted by

Admin

on Tue, 02/23/2021 - 11:32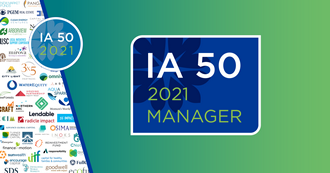 English
Investisseurs & Partenaires (I&P) has been selected for the third time for the ImpactAssets 50 2021, a free online database for impact investors, family offices, financial advisors and institutional investors that features a diversified listing of private capital fund managers delivering social and environmental impact as well as financial returns.
This year marks the tenth edition of the IA 50, and despite a tumultuous year, total assets under management (AUM) among selected fund managers jumped to a record $228 billion in 2020, up from $181 billion in 2019. By comparison, in the IA 50's inaugural year, assets totaled just $6.8 billion.
"The growth we've seen in the IA 50 over the past decade is reflective of the growth, maturity, and increased diversity of the impact investing industry as a whole," explains Sandra Osborne Kartt, CFA, Director, Investments, ImpactAssets.

Discover the list of selected impact investors
About ImpactAssets
ImpactAssets is a nonprofit financial services firm that increases the flow of capital into investments delivering financial, social and environmental returns. ImpactAssets' $1.4 billion Donor Advised Fund and field-building initiatives enable philanthropists, other asset owners and their wealth advisors to advance social or environmental change through impact investment and philanthropy.