I&P publishes IPAE's annual ESG & Impact Report
Submitted by

Admin

on Tue, 07/26/2016 - 17:05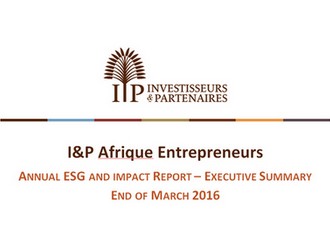 English
I&P published the annual ESG & Impact Reporting for the fund I&P Afrique Entrepreneurs (IPAE). Launched in 2012, the fund holds about twenty SMEs operating in Sub-Saharan Africa and in the Indian Ocean in portfolio.
I&P Impact & ESG team collects every year a series of impact indicators from IPAE investees, drawing a comprehensive review of the fund's societal strategy and the main impacts generated by our partners.
► Dowload the Executive Summary
Jean-Michel Severino's message
I&P is an impact investment firm. Promoting a new generation of responsible entrepreneurs is our key contribution to the development of Africa. This mandate is even more needed, as the continent is experiencing a drop in its growth pace, after 15 years of outstanding performance. Reasons for this slowdown are well identified: drop in many commodity prices, probably closing an exceptionally long cycle, but also macroeconomic mismanagement leading to excessively fast public debt growth, high inflation and exchange rate instability in an international context where borrowing conditions have tightened for most emerging economies.
This context makes IPAE contribution even more needed. Only strong investment in the productive sector and sound macroeconomic policies, linked to international support will allow African economies to rebound, and win the major battles of unemployment, poverty and sustainable development. Many more entrepreneurs are needed to improve the competitiveness of the economies, create jobs and improve the environmental and social standards of the continent.
By investing mostly in the countries that are natural resources deprived with a high growth potential based on "real economy" initiatives, and by supporting ethically managed business, IPAE is making a difference. A huge majority of our investments are backing African rooted entrepreneurs; more than one thousand jobs have been already created, paying four times higher than the minimum local wages.
But poverty is also alleviated by the impact of IPAE's investee corporations on their clients : 90% of partner companies meet local unsatisfied demand for goods and services addressing, in 70% of cases, the new UN Sustainable Development Goals . They also build local networks, generating business opportunities for small-scale suppliers and distributors. And we help low carbon and low natural resources impact growth to take place: investments like PEG in Ghana pave the way for a new energy model on the continent, while our cross-portfolio energy efficiency program helps changing the energy consumption paradigm in our business community.
At I&P, we care not only about who are our business partners , but also about their mission, their activity, and whether they contribute to a social good. We are also focused with them on how they deliver on their mission: high ESG performance is not an option for us, but also the most sure route for high financial performance and the only coherent way of being on line with our overall mandate. Sure, our business partners and us face technical, social, human, economic and financial challenges on delivering on this agenda. But we are strongly backed by our Investors, and can for instance draw on the technical assistance resources which they provide and which is so helpful. And we are also assisted by a wide range of experts and volunteers who strongly believe in the importance of the challenge we address.
Let me and my colleagues thank all those partners who allow us to improve every year IPAE extra financial performance and contribute, even modestly, to a better, wealthier and more peaceful Africa".