I&P's January Newsletter: a look at 2020
Submitted by

Admin

on Fri, 01/31/2020 - 11:39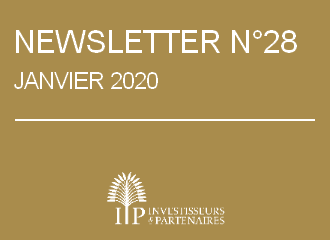 English
I&P publishes the first newsletter of the year 2020, and would like to take this opportunity to wish all its readers the very best for the year to come!
This newsletter focuses in particular on the major upcoming projects for 2020, with an editorial signed by Jean-Michel Severino, on the latest closing of the fund I&P Afrique Entrepreneurs 2, which welcomes two new companies in its portfolio, and on the journey of Frédéric Wybo, director of the Malagasy company Ultramaille.

Discover the newsletter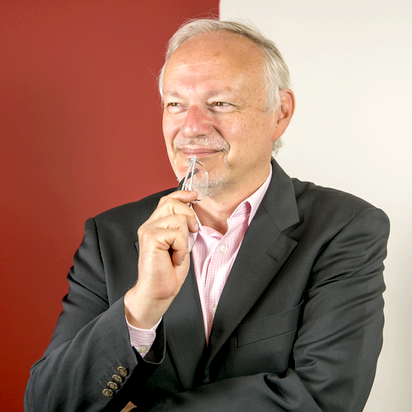 Editorial: Jean-Michel Severino,
CEO of Investisseurs & Partenaires
"The entire I&P team is joining me in wishing you all the best for 2020!
On our side, this year will be filled with exciting projects, managed by a growing and increasingly African team dedicated to entrepreneurs, start-ups and small and medium-sized enterprises in Sub-Saharan Africa.
Our model has evolved to better support African entrepreneurs. Its is now based on three complementary activities, that are segmented according to the maturity of the companies and the size of the financing requirements:
I&P Acceleration is primarily aimed at young businesses to enable them to scale up through seed funding and/or training programs. We recently announced the launch of I&P Acceleration Technologies, dedicated to promising African digital start-ups. Other ambitious and high-impact programs will be announced very soon!
I&P Développement enables small businesses to be financed through a network of I&P's partner funds in various Sub-Saharan African countries. Five funds are currently operating: Comoé Capital in Côte d'Ivoire, Miarakap in Madagascar, Sinergi Burkina, Sinergi Niger and Teranga Capital in Senegal. New investments, new recruitments: we will certainly share their progress with you throughout the year!
I&P Expansion is dedicated to directly supporting and financing SMEs and startups with higher financing needs (between €500k to €3 million). I&P is financing nearly 100 companies through its funds I&P Afrique Entrepreneurs 1 and 2 – as recently illustrated by the new investments of IPAE 2 in Rensource and New Crystal. I&P Expansion should also soon welcome the program I&P Education to Employment, designed to promote the employability of African youth.
If we have developed these different activities, it is to better meet the needs of small and medium-sized African companies - which has been the heart of our mission since the creation of I&P in 2002. This year will also be an opportunity to honour the entrepreneurs supported by I&P, with a wonderful editorial project that will be published by Eyrolles in March 2020 under the title Bâtisseurs d'Afrique... Written by Nathalie Madeline, the book relates the stories of a dozen African entrepreneurs. We hope that it will allow readers to perceive the incredible energy and optimism of these entrepreneurs, as we witness it every day working with them!"

Click here to find out more on I&P's activities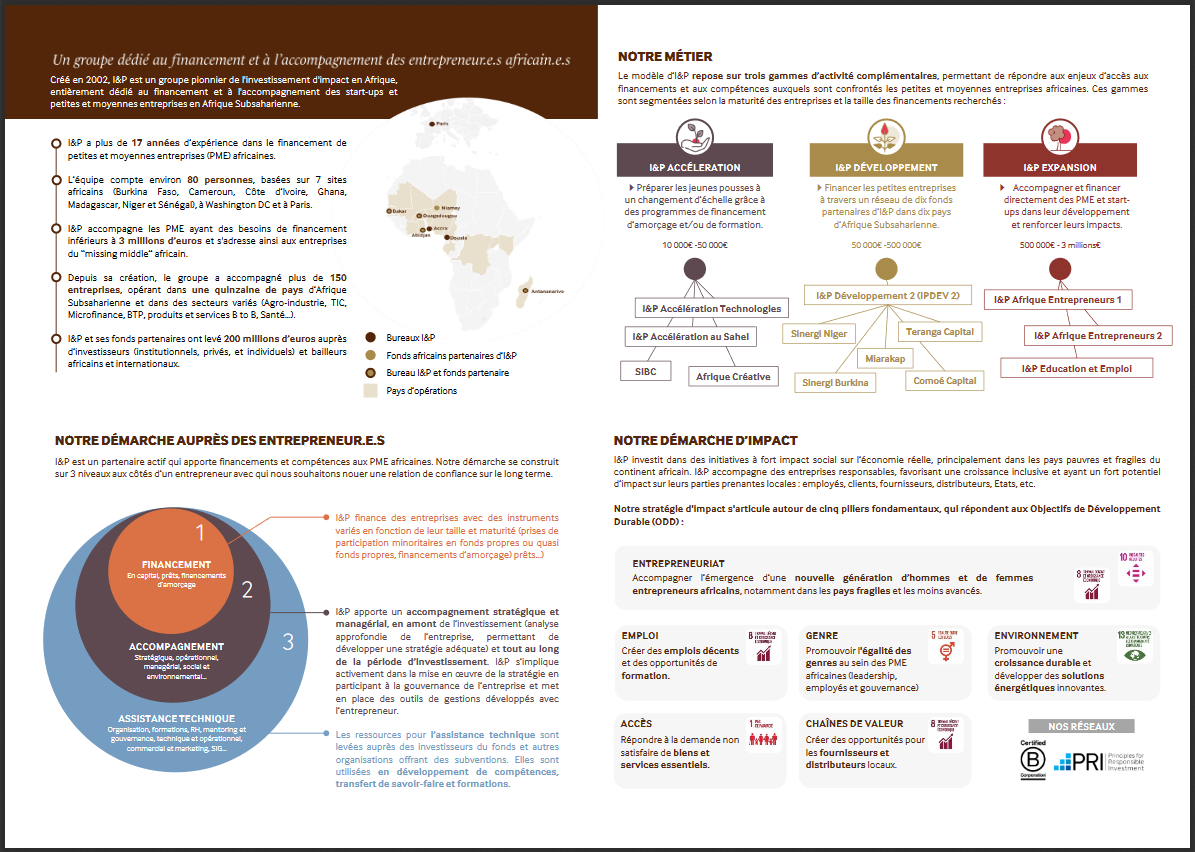 ---