Launch of Miarakap, a Malagasy impact fund supported by IPDEV 2
Submitted by

Admin

on Fri, 02/09/2018 - 17:54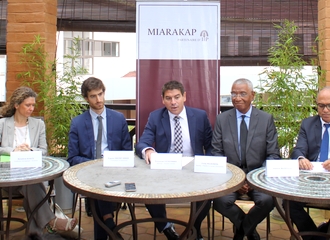 English
Miarakap, the first impact investment fund dedicated to the financing and support of small and medium-sized enterprises (SMEs) and start-ups in Madagascar gathered today its partners and shareholders for its first closing, led by Emmanuel Cotsoyannis and the group Investisseurs & Partenaires, with the support of the Monegasque Cooperation.
Mr. Fredy Rajaonera, Chairman of the Board of Directors of Miarakap, and several actors of the Malagasy industry, finance and entrepreneurship gathered at the Tamboho Hotel in Tananarive to contribute to this new investment fund.

Read more on IPDEV2, sponsor of Miarakap

website of Miarakap
A new financing solution adapated to SME and startup with high potential
The mission of Miarakap is to support the development of a dynamic network of sustainable companies in Madagascar by providing financinf and personalized support to the most dynamic start-ups and SMEs in the country. In view of the financing difficulties faced by most Malagasy SMEs, Miarakap aims to provide an innovative financing solution specifically designed to meet their needs.
Miarakap completes a first round of financing of 11.5 billion Ariary after a preparation phase led by its co-founders, Emmanuel Cotsoyannis and the group Investisseurs & Partenaires. Emmanuel Cotsoyannis is a Franco-Malagasy serial entrepreneur who came back to Madagascar after a decade of start-up creation and management in France. Investisseurs & Partenaires (I&P) is an impact investing group dedicated to African SMEs founded in 2002. With its fund IPDEV 2, I&P has actively contributed to the establishment of Miarakap by bringing its business experience and capital. I&P also has an office in Tananarive and currently has seven Malagasy companies in its portfolio.
"Miarakap will target SMEs and start-ups with high growth potential from all sectors and regions of Madagascar, with financing needs comprised between 50 million and 1 billion Ariary. Miarakap becomes a minority shareholder in companies, generally for 5 years, and provides an active and personalized support according to the needs of each company (formalization of their management, strengthening of their organization, increase in technical skills and acceleration of their commercial development)" explains Emmanuel Cotsoyannis.
Beyond its financial objectives, Miarakap's mission is to support companies capable of generating positive social, economic and environmental impacts for the benefit of their stakeholders. Over the next ten years, Miarakap's ambition is to finance 40 companies (representing 4 to 5 participations per year).
Renowned shareholders and a strong local presence
To carry out its mission, Miarakap can count on the financial, strategic and operational contributions of renowned players in the Malagasy economy. In addition to the contribution of Investisseurs & Partenaires, Miarakap raised an initial capital of 11.5 billion Ariary from numerous local and international shareholders, including two of the main local banks (BFV-SG and BNI Madagascar), several large companies operating in strategic business sectors (Axian Group, Southern Fisheries, Basan Group, Atria, ENAC, STTA ...), the Adéfi Rural Microinsurance Association and finally several resident Malagasy individual investors or members of the Diaspora.
Miarakap also benefits from the support of the Monegasque Cooperation, which has financed part of the implementing costs of the fund, and the Critical Environment Partnership Fund (CEPF) which implements, through Miarakap, a particularly innovative support for the development of private companies that have a positive impact on the protection of biodiversity in Madagascar.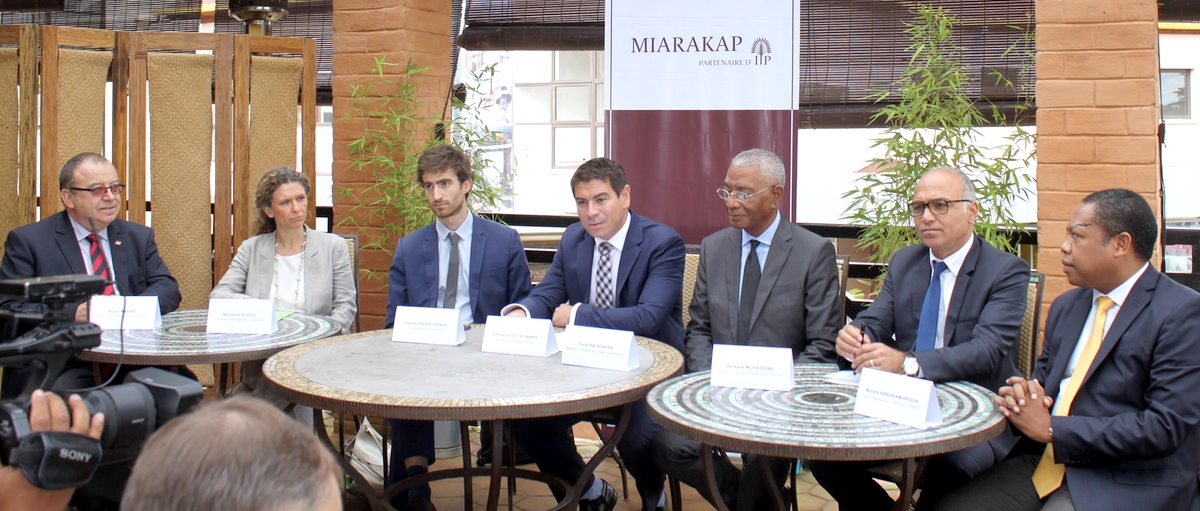 Launch of Miarakap, in presence of (from left to right): Bruno Massez (BFV-SG), Bénédicte Schutz (Coopération Monégasque), Hugues Vincent-Genod (I&P), Emmanuel Cotsoyannis (Miarakap), Fredy Rajaonera (PCA de Miarakap), Hassane Muhieddine (Axian) et Mahefa Randriamiarisoa (ACEP Madagascar)