Launch of Sinergi Burkina, new financing opportunity for Small Enterprises in Burkina Faso
Submitted by

Admin

on Fri, 02/19/2016 - 09:36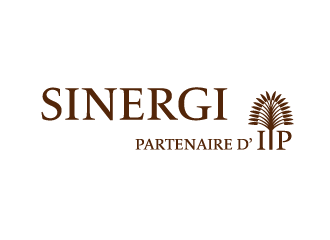 English
Officially launched on February 5 in Ouagadougou, Sinergi Burkina is a new fund dedicated to small growing businesses and start-ups in Burkina, sponsored by Investisseurs & Partenaires (I&P).
Its objective: address the financing needs of local entrepreneurs and encourage them in the implementation of their project.
The first Burkinabe fund dedicated to Small Growing Businesses
Sinergi Burkina intends to offer a new financing opportunity for small and growing businesses in Burkina Faso, as their capital needs are usually too small to be considered by commercial banks and foreign investors. Sinergi brings investments between 30,000 and 300,000 euros, but also a technical and managerial support in its areas of expertise.
Sponsored by I&P, Sinergi Burkina (www.sinergiburkina.com) is also supported by institutional and private investors based in Burkina Faso (Société Générale du Burkina Faso, SONAR, Total Burkina) and abroad (SIDI, Incluvest), as well as individuals. The managing director of Sinergi, M. Hervé HIEN, has broad experience of entrepreneurship issues in Burkina, as he worked several years for the RCPB, the largest microfinance network of the country.
Sinergi Burkina aims to build a portfolio of about twenty companies, and has already carried out a first investment in the company SIATOL, a young soybean processing company founded by Marcel Ouédraogo. Sitatol works with more than 3,000 small producers and is the only company to locally produce soya oil to date.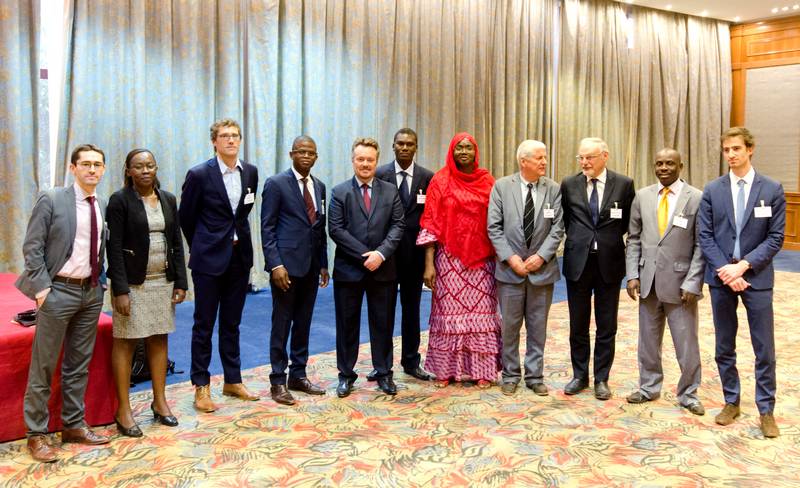 Sinergi Burkina's shareholders and I&P team
Sinergi Burkina completes I&P's investment range in Burkina Faso
Sinergi financial offer is complementary to Investisseurs & Partenaires' investments, which rank from 300 000 to 1.5 million euros. I&P portfolio currently includes two Burkinabe companies: Bakou Logistics directed by M. Mamadou Traoré, and the Microfinance Institution ACEP Burkina, directed by M. Yann Akindélé.
I&P has strengthen its presence in the region with the opening of a new office in Ouagadougou in April 2015, managed by M. Sidy Niang. The office facilitated the prospection and the follow-up of the investments in Burkina Faso, Mali and Niger. I&P aims to make 2 to 3 new investments in this zone by the end of 2017.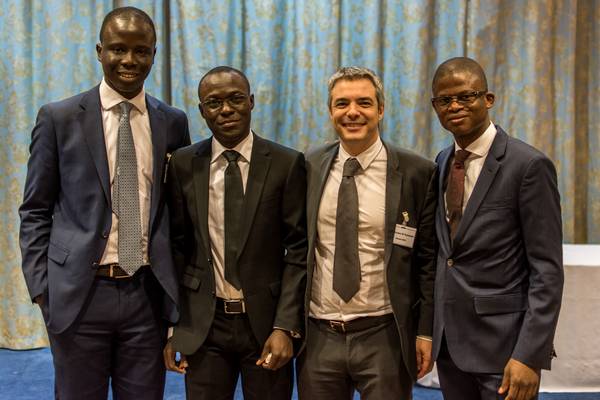 From left to Right: Sidy Niang (I&P), Yann Akindélé (ACEP Burkina), Sébastien Boyé (I&P) et Mamadou Traoré (Bakou Logistics)
---
Press Review
Jeune Afrique, February 5, 2016, « Burkina : un fonds de 2,6 millions d'euros pour les PME »
CTA Brussels, February 19, 2016, "Burkina: 2,6 million euros for SMEs"
Sidwaya (Quotidien Burkinabè), 8 février 2016, "Financement des PME: le groupe I&P va soutenir des entreprises au Burkina"
Financial Afrik, 8 février 2016, "Sinergi Burkina officiellement inaugurée"