Launch of Teranga Capital, first impact fund dedicated to Senegalese SMEs
Submitted by

Admin

on Wed, 03/16/2016 - 11:24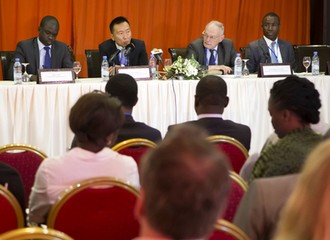 English
Teranga Capital is the third African fund sponsored by Investisseurs & Partenaires. The fund has been officially launched on March 15 in Dakar, in presence of its director Olivier Furdelle, the shareholders and I&P team.
On this occasion, I&P and Teranga organized a round table and a launching event gathering several actors dedicated to the development of entrepreneurship in Senegal.
Focus on SME financing in Sub-Saharan Africa
Teranga Capital is an equity impact investment fund dedicated to promising SGBs in Senegal, with financing needs comprised between 75,000 and 300,000 euros. Alongside with long-term finance in the form of minority equity participations, Teranga Capital provides very close management coaching to support the growth and consolidation of the SMEs in portfolio (sales and marketing, accounting, ESG dimensions…)
"We bring an innovative solution specifically designed to answer the needs of Senegalese SMEs, in terms of financing but also in terms of strategic and managerial support" explains Olivier Furdelle, co-founder and Director of Teranga Capital.
Teranga and I&P organized a round table on the issue of SME financing in Senegal and Sub-Saharan Africa. Moderated by Philippe Barry (President of Iniative RSE Senegal), the conference gathered:
Bagoré Bathily, Director of La Laiterie du Berger, a Senegalese company supported by I&P since 2005
Jérémy Hajdenberg, Chief Investment Officer at I&P, in charge of Senegalese portfolio
Laurence Hart, Director of the French Development Agency in Senegal
Amadou Hott, Director of the Fonsis
A gathering of committed actors for the development of entrepreneurship in Senegal

From left to right: the founder of Teranga Capital (Omar Cissé and Olivier Furdelle), Jean-Michel Severino, and Teranga's shareholders, David Munnich (I&P)
Teranga is supported by renowned investors in Senegal, who participated to the event: the Sovereign Fund for Strategic Investment (FONSIS), SONATEL, and several individual Senegalese investors.
The Minister for Economic Affairs and Finance in Senegal, M. Amadou Ba, pronounced an introductory speech during the event, alongside with Olivier Furdelle, Director of Teranga, and Jean-Michel Severino, President of Investisseurs & Partenaires.
As stated by Jean-Michel Severino, "I&P and Teranga Capital provide a complementary investment range, which perfectly matches the financing needs of the small businesses. This innovative model, which will span across 10 African countries over the next decade, aims to support an emerging network of dynamic and local enterprises in Sub-Saharan Africa"
Read More
► I&P Développement 2, sponsor of Teranga Capital