Meeting with the promoters of OuiCarry in Senegal
Submitted by

Admin

on Wed, 05/03/2017 - 16:56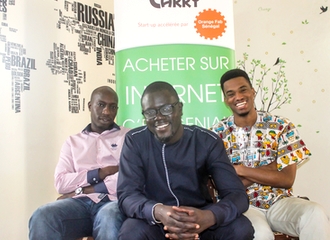 English
OuiCarry is a young Senegalese company providing delivery services and allowing its customers (individuals and businesses) based in Senegal to buy products from international commercial websites. In March 2017, the fund Teranga Capital made its first investment wih OuiCarry.
More information on Teranga's investment
The company was co-founded in 2013 by three entrepreneurs: Olabissi Adjovi, Youssou Ndiaye Owens and Pape Oumar Yam.
Olabissi Adjovi grew up in Benin and moved to France to study at the National Institute of Applied Sciences in Lyon. He holds a Master on entrepreneurship from ESCP Europe.
Youssou Ndiaye graduated from Lyon's Ecole Polytechnique. Before working for OuiCarry, he co-founded and managed Speed Mail Service, a mailing company dedicated to Senegalese businesses.
Pape Oumar Yam graduated in economics and transport management from the University Of Economic Science Of Montpellier. He came back to Senegal in 2009 and became soon associated on Speed Mail Service and OuiCarry projects.
The company is supported since March 2017 by the Senegalese investment fund Teranga Capital, sponsored by I&P. As explained by Olivier Furdelle, CEO of Teranga, "We are very happy this first investment. We believe that the sector of e-commerce is only starting in Senegal. The promoters have demonstrated a great ability in finding a relevant positioning in the market, while some market players have faced more challenges to validate their model"
MEETING WITH OLABISSI ADJOVI AND YOUSSOU NDIAYE
Can you tell us a few words about your respective careers and your encounter?
Youssou Ndiaye : Je suis né au Sénégal, où j'ai étudié jusqu'au bac. Je suis ensuite parti à Toulouse étudier les sciences de l'ingénierie, puis à Lyon pour compléter mon cursus. Je suis rentré au Sénégal en 2009 pour monter le projet Speed Mail Service avec Oumar, qui est en fait l'un de mes amis d'enfance !
Olabissi Adjovi : De mon côté j'ai rencontré Youssou en 2007 à Lyon, comme nous étions sur le même campus. Je faisais alors des études d'ingénieur en génie électrique. Je souhaitais me lancer dans l'aventure entrepreneuriale et en 2010, j'ai démarré un Master spécialisé sur l'entreprenariat à l'ESCP Europe. C'est depuis Paris que l'idée de OuiCarry s'est progressivement mise en place.
Youssou Ndiaye: I was born in Senegal, where I stayed until the baccalaureate. I then moved to Toulouse to study engineering and finally Lyon to complete my curriculum. I head back to Senegal in 2009 and started to work on the company Speed Mail Service with Oumar, who is actually one on my childhood friends!
Olabissi Adjovi: On my side I met Youssou in 2007 in Lyon, as we both studied on the same campus. I also studied engineering, but as I became more and more interesting in creating my own business, I started a specialized Master on Entrepreneurship at ESCP Europe. It's from Paris that the idea of OuiCarry progressively emerged.
How did the project of OuiCarry come about? How did you meet Teranga Capital?
O.A.: OuiCarry is really the result of a long process, and not of an idea coming all of the sudden! I started on one simple observation: the great difficulty for people to send packages to Africa. The innovation with OuiCarry was to focus first on the clients in Africa, the ones who need to receive these packages. I started in 2012 and contacted Youssou and Oumar, as their company Speed Mail Service fitted well my project.
Y.N.: things started slowly in 2012, followed by a more intensive period since 2013 when the project started to get concrete. We met the team of Teranga Capital in early 2015, through the intermediary of Omar Cissé, co-founder of Teranga and well-renowned in the ITC sector in Senegal. At that time he was building up the fund together with Olivier Furdelle.
What difficulties (and opportunities) did you encounter since you started the project?
O.A.: Beyond the regulatory and logistical barriers, the difficulties were above all financial! To raise funds in Senegal, it's not enough to have an idea: you have to start the project already. This is why we developed OuiCarry over a 3-years period on our own funds.
Y.N.: Besides that, OuiCarry received several awards, which helped with the liquidity but also the visibility of our project. We notably participated to the Great Entrepreneur Initiative (organized by the British Council) and the incubator OrangeFab.
What are the next projects for OuiCarry?
O.A.: We are currently working on three important projects to develop OuiCarry. The first one consists in developing an e-commerce platform (OuiCarry currently works as a platform for purchase assistance). Thanks to YesCarry, we have a good idea of what the population in Senegal needs and the most requested products!
Y.N.: the second project is to develop our activity in the West-African region (Bamako, Abidjan…). Last but not least, we are also actively working on a third major project: the automation of our work tool and our processes, in order to be more operational.