Nate Heller (PEG) participates to TedxPortBouet
Submitted by

Admin

on Mon, 10/09/2017 - 18:20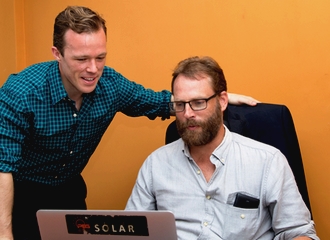 English
Nate Heller is the co-founder and director of PEG, a company specialized in the distribution of solar kits in West Africa. He participates on October 10 to the TedxPortBouet conference, gathering 14 speakers with a wide range of profiles (entrepreneurs, artists, journalists, athletes...)
Nate has over 15 years of experience in international development, including stints with the UN, the Peace Corps, and multiple social enterprises around the world. He spent six of those years building innovative distribution channels for poor consumers in West Africa.
He co-founded PEG with Hugh Whalan. The company aims to bring off-grid solar energy access to rural and peri-urban communities in West Africa by providing pay-as-you-go (PAYG) solar home systems to rural and remote customers.
About Tedx
TED is a nonprofit organisation devoted to Ideas Worth Spreading. It started out (in 1984) as a conference bringing together people from three areas: Technology, Entertainement and Design. Since then its scope has become far broader. The annual conferences in Long Beach and Oxford bring together the world's most fascinating thinkers and doers, who are challenged to give the talk of their lives (in 18 minutes). The TEDx Program is designed to help communities, organizations and individuals to spark conversation and connection through local TED-like experiences.