Official Launch of the African Club of Entrepreneurs
Submitted by

Admin

on Mon, 06/06/2016 - 18:00
English
The African Club of Entrepreneurs was officially launched on June 2, 2016 in Abidjan at the African Development Bank. The association, based in Ivory Coast, aims to contribute to the emergence of entrepreneurs across the African continent, allowing for direct exchanges and partnerships between its members. See more on the event on Twitter ! >>
A pan-African association committed to the small and growing businesses of the continent
The African Club of Entrepreneurs was created under the impulse of Investisseurs & Partenaires (I&P) to promote the exchange of good practices, experience and business opportunities between the entrepreneurs supported by I&P since 2002. The network already gathers about sixty companies and will open to new members in the medium term.
The Club offers to its members a range of value-added services, classified into four categories: business development, training, advocacy and network life. Develop the performance and expertise of its members is one of the primary objectives of the Club, conceived in a pragmatic and entrepreneurial approach. The Club organizes notably an annual top management training seminar, in partnership with renowned institutions (HEC, INSEAD…). The seminar addresses each year one key issue for small and medium enterprises: human resources, CSR, financial management or communication and marketing. ''The African Club of Entrepreneurs is conceived as a tool to reinforce the managerial capacity of the entrepreneurs, its offer being specifically designed to small and medium businesses. In Ivory Coast, SMEs represent the majority of formal enterprises, but only 20% of the GDP" explains Doctor Elisabeth Kacou, Chairman of the board of Pharmivoire Nouvelle and President of the African Club of Entrepreneurs.
A new advocacy tool for African entrepreneurship
Gathering sixty talented and committed entrepreneurs, the African Club of Entrepreneurs aims to be a new force of lobbying in support of African small and medium businesses. The Club's advocacy activities specifically focus three topics this year: entrepreneurship, youth and women.
The Club may rely on its partners to reinforce its advocacy projects, as it was the case for the launching event in Abidjan where entrepreneurs, investors and institutional actors were gathered to promote the cause of African entrepreneurship. A policy in which Investisseurs & Partenaires and Proparco were already involved with the project "Small is Powerful", which aims to portray the reality of African entrepreneurship by following and studying the impacts of five SMEs across the continent, in Senegal, Mauritania, Benin, Nigeria and Madagascar. "Investisseurs & Partenares is proud to participate to these advocacy projects, which allow us to scale up our activities and impact on the continent. Small and medium enterprises are definitely part of the solution to the economic and development issues in Sub-Saharan Africa, starting with the issue of job creation. The continent needs to create at least 11 million jobs each year to absorb the growing working age population, and SMEs have a crucial role to play in that regard" says Jean-Michel Severino, President of Investisseurs & Partenaires.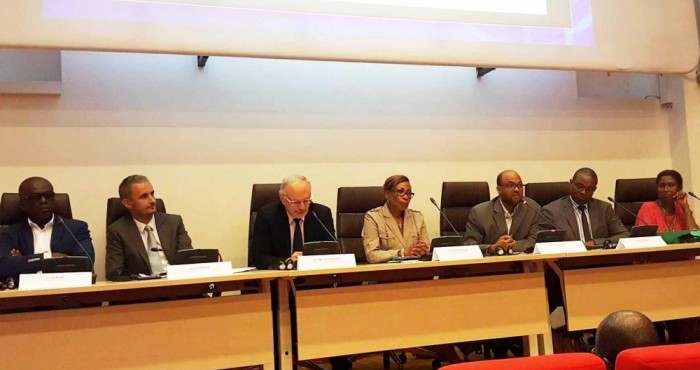 From left to right: Jules Kébé, Laurent Farge (Proparco), Jean-Michel Severino (I&P), Dr. Kacou, Sidi Khalifou, Gabriel Fopa, and Catherine Krobo-Edusei
In the press
Read More