PEG Africa raises $1.5 million to support distribution of solar home systems in Ghana
Submitted by

Admin

on Tue, 11/15/2016 - 14:14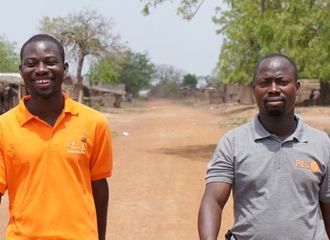 English
PEG Africa, West Africa's leading pay-as-you-go financing firm, with operations in Ghana and Ivory Coast, has raised a $1.5 M in a debt round led by Responsibility in participation of Oikocredit's and SunFunder, to fund the purchase of solar home systems that will reach 75,000 people in Ghana. This follows a $7.5 million equity round in June 2016, led by I&P, Energy Access Ventures, ENGIE Rassembleurs d'Energies and Blue Haven Initiative. It will help PEG reach its goal of providing financing to half a million households in West Africa by 2020.
In a statement, Hugh Whalan, the CEO of PEG Africa said, 'This debt deal is a landmark in West Africa for the off -grid pay-as-you-go solar sector. It will allow us to focus on continuing to grow our business. We are also proud to have received the support of our legal advisers, Nixon Peabody, on this innovative transaction."
PEG provides financing for solar products to low-income households that typically live in rural areas and earn $5-$10 per day, spending up to 30% of that income on poor quality fuels such as kerosene, candles and batteries. While these customers have little ability to purchase a solar home system for cash, the pay-as-you-go plan allows them to purchase it over time, building ownership of the product over 12 months with daily payments of 50 cents.
"We are delighted to be a part of PEG's success story and bring electricity to thousands of households in Ghana through a financially viable business model," ResponsAbility's Stefan Issler commented," This transaction is a great example of how different lenders can successfully cooperate to provide funding to unlock growth in the energy access sector."
Each solar system has a battery, an 8 watt solar panel, 2 bulbs, a torch, a radio and a phone charger. After 12 months of payments, the system is fully paid off and the customer is will generate as much as $800 in energy savings over the remaining life of the solar system. In addition, they qualify for additional financing for productive and useful assets such as cook stoves, smart phones and solar powered TVs.
This is SunFunder's second deal with PEG to help them become a leading solar company in West Africa. Oikocredit's joined in the round for the first time.
PEG Africa also win the 'Scaling Off Grid Energy Grand Challenge' grant from USAID to pilot innovative ways to help customers pay though mobile money in Ghana. The grant was provided by the Scaling Off Grid Energy Grand Challenge, an initiative of USAID in partnership with DfID and Shell Foundation that is supporting solar home system companies to scale up commercial delivery of modern energy services to households in sub-Saharan Africa.
About
PEG Africa is a young company which aims to bring off-grid solar energy access to rural and peri-urban communities in West Africa by providing pay-as-you-go (PAYG) solar home systems to rural and remote customers. The company has started its activities in Ghana.