PEG completes $7.5 million round to expand activities in Africa
Submitted by

Admin

on Wed, 06/22/2016 - 16:33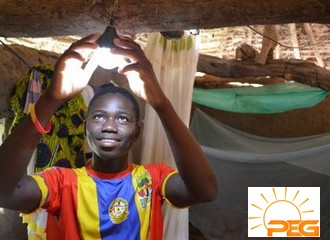 English
Accra, Ghana – PEG, the leading off-grid solar company in Ghana, announced today that it has closed a $7.5 million Series A round. The funding will be used to expand operations in Ghana, build out the management team, and to enter Ivory Coast.
PEG, a leading pay-as-you-go financing company in West Africa
PEG provides loans for solar home systems and other useful assets to off-grid households in West Africa. PEG is able to focus on off-grid customers, who are often rural and considered risky by banks and microfinance, because it provides loans using 'pay-as-you-go' technology. This technology allows PEG to control assets remotely in the field while they are being repaid by customers. Importantly, by allowing customers to pay overtime in small increments, PEG is able to reach many customers who would not otherwise be able to afford such life-changing products.
Hugh Whalan, CEO of PEG, says: "We are thrilled to receive the support of new and existing investors, and to continue our vision to bring pay-as-you-go financing to the massive, and largely ignored, West African market. As a market leader in this region, where there are 35 million off-grid homes, we are uniquely placed to do this."
PEG's customers are typically farmers or fisherman living in peri-urban or rural areas, who earn $1-$10 per day. They currently spend up to 30% of their incomes on poor quality, polluting fuels like kerosene, candles or batteries which create indoor air pollution contributing to more deaths than Malaria each year in Africa. A PEG customer who takes a loan for a solar home system can not only expect to receive access to clean, convenient light, radio and phone charging, but they will also save up to $800 over the useful life of solar system. In addition, as less than 30% of PEG's customers have access to microfinance or local banks, the loan provided by PEG allows them to start building a credit history which can transform their ability to access finance.
A first roundtable of 7.5 million dollars
PEG has over 10,000 customers and operates 29 service centers in 7 regions of Ghana. The Series A investment comes from a $4.3 million USD A-2 round which closed today and follows an earlier A-1 investment of $3.2 million in September 2015. The A-2 round was led by Energy Access Ventures, and includes Blue Haven Initiative, as well as follow-on investment from existing investors, Investisseurs & Partenaires (I&P) and Engie Rassembleurs d'Energies. These investors join Impact Assets and Persistent Energy Capital, among others.
Dr. Michael Gera, Managing Partner of EAV, says: "We are immensely proud to be investing in PEG. EAV was hugely impressed with PEG's leadership team and greatly looks forward to working with the company and its other investors." Lauren Cochran, Director of Private Investments, Blue Haven Initiative added: "PEG represents our first investment in West Africa, a region that has been under the radar of most energy focused investors for far too long, and Blue Haven Initiative is excited to welcome PEG into its portfolio of innovative energy and fin-tech companies in Africa."
Existing investor, Sebastien Boyé, Chief Investment Officer of I&P, commented: "I&P is very enthusiastic to participate in PEG's new round of financing. As one of the first investors, we are strong believers in PEG's mission and their potential" and Laure Vinçotte, Managing Director of ENGIE Rassembleurs d'Energies, concluded: "PEG's achievements in powering people in Ghana thanks to an innovative clean solution is fully in line with ENGIE Rassembleurs d'Energies' objective of promoting access to sustainable energy for all.