Plead the case for African entrepreneurship: a key component of I&P's impact policy
Submitted by

Admin

on Fri, 02/19/2016 - 09:42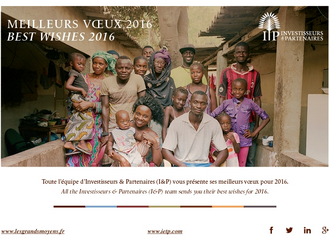 English
The team of I&P sends you their best wishes for 2016!
Jean-Michel Severino, President of Investisseurs & Partenaires, signs the editorial of the newsletter of January, reflecting on the highlights of 2015 and the perspectives to come in 2016. He notably underlines the importance of our advocacy projects: plead the case of African entrepreneurship is a key componant of our impact policy, to demonstrate that it is not only possible but extremely relevant to support the small and medium enterprises of the continent.

Editorial - Jean-Michel SEVERINO
2015 has been a busy and enthralling year for Investisseurs & Partenaires, confirming once again the strong entrepreneurial dynamism on the African continent.
We celebrated a pivotal moment with the first closing of the fund I&P Développement 2 last October, at 9.5 million euros. This ambitious project, which aims to build a network of ten African investment funds, is already well underway in Niger, in Burkina Faso and in Senegal. It should open new financing opportunities for the small growing businesses and start-ups of the continent.
Our portfolio welcomed five new companies, based in Benin (the bakery Tincy), in Ivory Coast (ENVAL Laboratoire), in Ghana (Eden Tree, Persistent Energy Ghana) and Madagascar (Scrimad).
I&P is also starting a new and promising venture, on a more specific sector: small infrastructure in Africa. In partnership with InfraMed, we launch I&P Africa Infrastructure, a fund dedicated to the missing link of African infrastructure.
Through these activities, we actively contribute, at our level, to support the emergence of a new generation of African entrepreneurs. But it seems to us equally important to develop the visibility of our model and to demonstrate the tremendous potential of these businesses to the investors and future entrepreneurs of the continent.
The numbers speak for themselves: the contributions of an actor such as I&P could seem negligible in view of the issues at stake on the African continent. To take the case of employment, the situation is striking: 450 million Africans will enter the labor market by 2050, will only 220 million jobs will be created under expected growth rhythm. What prospects are left for the other 230 million working people of the continent?
This is why we attach a great importance to our advocacy projects, meant to demonstrate that it is not only possible but extremely relevant to support African entrepreneurship. As an integral part of our mission, our advocacy policy strives to illustrate the economic, social and environmental impacts of African SMEs (as it is done with the project Small is Powerful), to encourage local and foreign investors and the entrepreneurs to realize their projects (we released an handbook ''Investing in African SGBs" and participated to the launch of a "Club of African Entrepreneurs").
All these initiatives support our primary and main objective: contribute to the emergence of new African champions, who can explain better than any other the dynamics at play on the continent.
The Newsletter of January is available here ►